These are the pop culture items I consumed this weekend.  Without further ado:
Room: I read the book years ago and probably should revisit it, but I went to see Room this weekend and it was so, so good.  One of my favorite movies of the year, probably.  Smart, sad, powerful, this is a tear-jerker of a movie.  I ugly-cried through most of it.  Both Brie Larson and Jacob Tremblay are incredible (and I'd be surprised if they both don't get some award nominations).  Definitely worth seeing.
Orbiting Jupiter by Gary Schmidt: Read for the Cybils this weekend, this was the book that most stood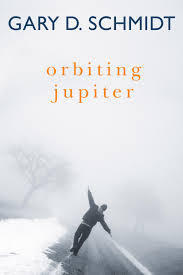 out over the past few days (there's a lot of reading happening).  It's a sad, sad book, but also beautifully and sparsely written.  I'm going to be thinking about this one for a while.
Fantastic 4: J. and I watched the remake when I said I wanted something really stupid.  It delivered on the really stupid part, but it was so boring that it hardly matters. Like, I couldn't even make fun of it because it was so boring.  No wonder it bombed at the box office.  What a total disappointment (and it was a low bar to clear to begin with).
Master of None: I started watching this new Aziz Ansari show and am
completely in love with it.  It's smart, fresh, funny, and totally authentic.  I keep yelling, "This is so natural! Everyone seems like real people!" when I'm watching it, and it's true.  This is a gem of a show.  I can't wait to watch more and at the same time I want to savor it because it's so smart.
What pop culture did you consume this weekend?