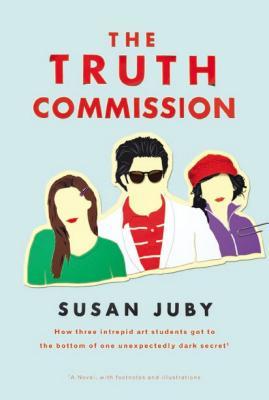 Normandy Pale and her friends start a "truth commission" as a way to find out the secrets at their school.  As part of a "creative nonfiction" piece for her school, Normandy details the drama and events over the course of a year as she attempts to step out from under her artist sister's shadow as well as discover the truth about the human experience.  The truth commission goes swimmingly well until it leads them to Normandy's own sister, who is hiding some pretty huge–and damaging–secrets.
Susan Juby's ambitious fictional story of Normandy Pale is a knockout of a novel, guaranteed to win legions of fans, especially those who are literary geeks themselves.  Using Normandy's creative nonfiction school project as her narrative device, Juby crafts a story that is funny, heartbreaking, smart, and sneakily provocative.  One of the best books of the year, this is one that readers will want to talk about long after they're done reading.
Juby employs a whole host of literary devices to tell Normandy's story, including footnotes (which tell their own hilarious, sweet story), flashbacks, cliffhangers, and more.  Literary trope geeks will delight in how many different devices are used here, and because Juby is so good at what she does, these thing add to the story instead of distracting from it.  These devices, combined with the story's provocative themes about the nature of truth and gossip, about what should be or can be kept private in the world of oversharing and social media, make this a thoughtful, layered read.
Multi-dimensional characters and truly nuanced portrayals of family dynamics make this a rich read as well.  Normandy's relationship with her family changes as the truth commission forces her to give a closer look to how her parents enable her sister Keira's behavior.  They're all tied up in it because everyone needs something from someone else, and there are no easy answers to be found here.  It's a fascinating look at the dysfunction of families and how we can be blind to our own failings.
On the whole, this is a title with enormous teen and adult appeal.  It's a novel that lends itself to multiple re-reads, and is guaranteed to add more to think about each time a reader completes it.  Recommended.
The Truth Commission by Susan Juby.  Viking Books for Young Readers: 2015.  Library copy.