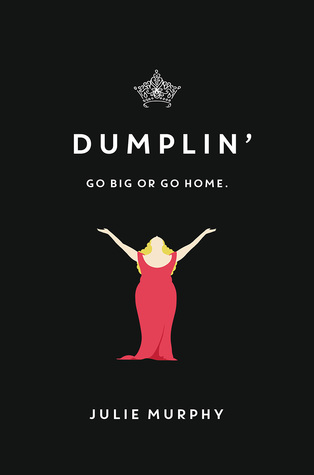 Willowdean Dickson is a fat girl in a tiny Texas town.  She has a former beauty queen for a mom, a dead aunt she misses something fierce, and no desire to be thin.  In fact, Willowdean has always been comfortable in her body and her skin, but all that changes when she meets Bo, a boy from the private school who is gorgeous, stoic, and possibly into her.  Adrift in uncertainty, Willowdean starts to feel unsure about everything and decides to regain control of her life by entering the Miss Clover City beauty pageant.
Julie Murphy's latest offering for teens has been garnering tons of good buzz, and it only takes a few minutes with her book to understand why.  With the character of Willowdean, Murphy has crafted a flawed heroine who is funny, smart, and achingly real.  This is a knockout of a novel, guaranteed to hook teens and adults alike from its first pages and make its readers fall in love with all the characters who populate Willow's world.
It helps that Willowdean has a singular voice that feels authentic and true.  Murphy lets Willow take her sweet time in figuring out how she feels about all sorts of things, including Bo, the beauty pageant, and the death of her beloved aunt.  Willow is surrounded by other characters who are very realistic and fully realized, making the story that much richer and all the more charming.
The setting of Willowdean's small Texas town helps add dimension to the story.  There's a real sense of place to be found here, and it helps make the story all the more compelling.  There's plenty of heart, romance, and humor here to keep readers glued to the pages.  This is a standout title, and one of the best of the year.
Highly recommended.
Dumplin' by Julie Murphy. Balzer + Bray: 2015. Library copy.