These are the pop culture items I consumed this weekend.  It was another busy weekend, but I still squeezed in time for these things:
Goodnight Mommy: I went to see this movie this weekend, and it was one of the most unsettling things I've ever had the opportunity to watch.  It's a foreign film about a mother and her twin boys following some sort of accident and reconstructive surgery.  The boys believe an imposter has returned instead of their mother, and things escalate as they try to figure out what has happened.  It's a gross film, and it's also a slow burn.  I can't say I liked it very much, but I am sure I will never watch it again.
The Boy in the Black Suit by Jason Reynolds: I listened to this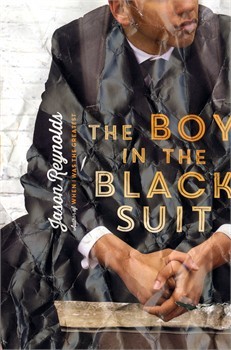 audiobook as I painted the walls in our guest room.  It's my second novel by Reynolds and I like the same things I did about his first one: it's got an authentic voice, vivid characters, and a sense of place.  But I also have some of the same issues here: it's a little on the slow side, and there isn't much plot pushing it forward.  All the same, it's a good listen.
"Hotline Bling" by Drake: This song is catchy and awful and it's been on constant replay in my house and car.  I love the internet memes that are all over the internet right now.  There isn't anything about the song that isn't offensive on a feminist level, but I still love it.  It's okay to like things that are problematic, sometimes.  Especially when it's a terrible ear worm.
What pop culture did you consume this weekend?