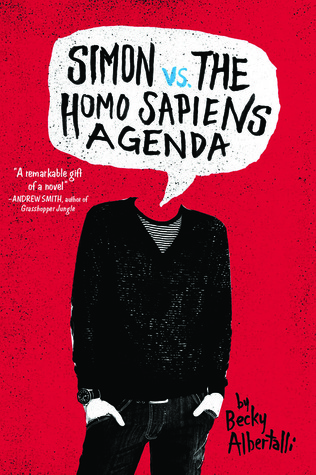 Simon Spier is 16 and gay, but he's not out.  He's been emailing with another boy who is also not out, and Simon is pretty sure they attend the same school, but since they both use aliases, he can't be sure who it is.  When one of his emails falls into the wrong hands, Simon finds himself in a fair amount of drama, blackmail, and reluctant matchmaking.  Simon has to find a way to navigate all of this while also juggling his friends, family, and the realization that it's time to step out of the closet.
Becky Albertalli's debut is a sweet, smart coming-of-age story that is sure to attract legions of fans.  Early buzz was good, and the novel was longlisted for the National Book Award, which means it attracted even more readers.  On the whole, the novel is smart, self-aware, and authentic.  Readers looking for a sweet LGBTQ romance will be satisfied by this one.
Albertalli succeeds particularly when it comes to her characters.  Everyone, from Simon's sort-of-wacky family to his group of friends, gets to be fully realized characters.  The dynamics at play within Simon's family are fascinating, funny, and make up some of the book's best moments.  Also noteworthy is Albertalli's ability to reveal her character's deepest, most intimate thoughts through email correspondence.  As Simon emails with "Blue" throughout the book, both boys reveal the deepest, most secret parts of themselves, and it is done in a way that is naturalistic.
There are moments where the book gets a little too mired down in the high school hierarchy, especially when it comes to Simon's friends and their drama, but it also feels very true to high school.  It just detracts from the overarching narrative and slows the plot slightly.  These moments are few and far between, and the novel as a whole is still an enjoyable, sweet read.
Moving, funny, and definitely one that will resonate with readers.
Simon vs. the Homo Sapiens Agenda by Becky Albertalli. Balzer + Bray: 2015. Library copy.