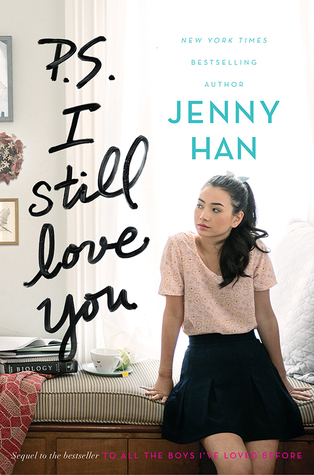 Lara Jean didn't think that when she set up a deal with Peter, she'd actually end up falling in love with him.  But the two of them ended up really liking each other, and now they're in uncharted territory.  When a boy from Lara Jean's past comes into the picture, Lara Jean feels more confused than ever before.  Is it really possible to be in love with two boys at once, and how can she ever determine who she's supposed to be with?
In this follow up to Jenny Han's popular and sweet To All the Boys I've Loved Before, Lara Jean is back with her treacly sweetness as she navigates her first real relationship.  Han explores what it means to enter into a relationship when the baggage from previous ones dogs the couple, and the lessons Lara Jean and Peter learn about trying to ignore problems will resonate with teens.  There are plenty of sweet moments here, and just like the first novel in the series, readers will swoon over the handsome boys and romantic gestures.
Lara Jean remains very innocent throughout the novel, and her voice is still remarkably young.  The book's best moments come when she is with her sisters, whose bond is heart-warming and all too real.  Virtually all of the characters from the first novel make an appearance in this one, and Han allows all of them to grow even richer in their character development.  There's plenty of side plots to entertain readers less invested in the romantic aspects of Lara Jean's life.
Most notable in terms of characters is the appearance of John McLaren, one of the boys from Lara Jean's past who gets a starring role in this sequel.  John is sweet and smart and good to Lara Jean, and it is easy to see why she begins to develop feelings for him.  He's a strong enough character that readers will be split in their opinions about who Lara Jean should end up with.
But an abundance of characters and side plots means that the book suffers a bit structurally.  Too many characters crowd the story and make it harder for Han to hold onto the narrative of the book, making it a little looser than it should be.  As a sequel, it is perfectly serviceable, but it is not as strong as the first novel in the series, and it's likely that readers will notice this.
Still very satisfying, and absolutely a must-stock for fans of contemporary YA.  Han is a good writer whose strengths come through in her character development.  Recommended.
P.S. I Still Love You by Jenny Han. Simon & Schuster Books for Young Readers: 2015.  Purchased copy.