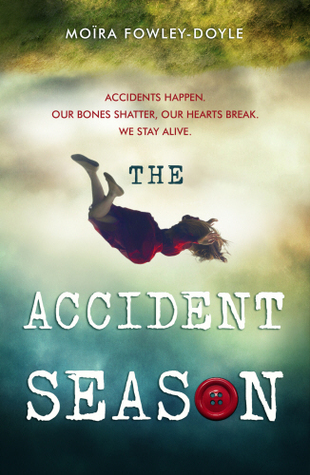 Cara and her family deal with the accident season every year.  For a few weeks in October, Cara's family becomes incredibly susceptible to accidents.  Still reeling from the loss of relatives in seasons past, Cara's mother obsesses about keeping her children safe, making them wear multiple layers of clothes and removing dangerous objects from their home for the duration.  For years, Cara has wondered why they're so accident prone.  This might be the year she figures it out.
Fowley-Doyle's debut novel is a gem of a book.  Smart, thoughtful, and moving, this rumination on fractured families and the healing process is guaranteed to hook readers from the start.  The story has an eerie quality to it, guaranteed to haunt readers as they race to the book's finish, determined to find out what sort of supernatural forces (if indeed there are any) are dogging this family.
Falling solidly in the realm of magical realism, there's a dreamy quality to Fowley-Doyle's novel, though her prose remains grounded in reality.  It's beautiful writing without ever becoming too flowery, and the characters are compelling, realistic people.  The story is rich both emotionally and spiritually, and it provides plenty of food for thought for readers.
An unusual tale that will work for readers who like their stories complex and the answers to the big questions murky.  This is an absolute knockout of a debut and Fowley-Doyle is absolutely an author to watch.  Give this to sophisticated YA readers who want a haunting tale grounded in reality.
The Accident Season by Moira Fowley-Doyle. Kathy Dawson Books: 2015. Library copy.