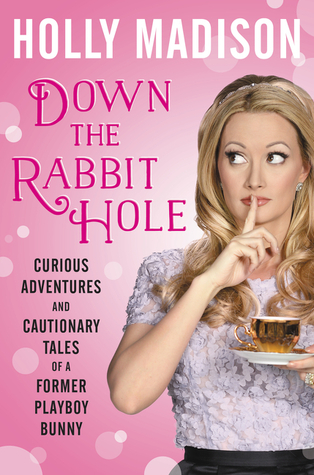 Holly Madison, former star of The Girls Next Door and ex-girlfriend to Playboy mogul Hugh Hefner shares her experiences of living in the mansion in this tell-all memoir.  Suffering from depression and a lack of self-esteem, Madison navigated the constricting world of the Playboy family as well as the controlling behaviors of an ancient narcissist before making her own way in the world of entertainment.
This perfectly readable memoir of Madison's time in the Playboy Mansion and her subsequent attempt to strike out on her own is guaranteed to satisfy any reader's curiosity about what it was like to be one of Hefner's infamous "girlfriends."  According to Madison, though, it's not exactly the glamorous life Hefner would like the public to believe.  Unafraid to get into the nitty-gritty of daily life in the mansion, Madison paints a fairly authentic portrait of the tedium of her life confined in the mansion (strict curfews, stupid in-fighting between the women, Hefner's obsessive need to stick to his routine) and allows readers extra insight into what it was like to film a reality show there where the world presented to the viewers wasn't at all what was happening behind the scenes.
Madison has help from a ghostwriter here, but it still feels like her own voice throughout the novel.  There are moments where she repeats herself (something that could have been solved with a bit more editing), but on the whole her tale is very readable and entertaining.  She has a unique voice and some genuine insight into why she made the choices she did (although she goes much easier on herself than some of the other reader-reviewers on Goodreads did).
This is a strong entry into the celebrity memoir genre and is well worth investing in for library shelves.  Readers who followed the E! series The Girls Next Door or who are at all interested in the decline of the Playboy Empire will want to check this one out.  Madison is likable, relatable, and smart.  This was, on the whole, very fun.
Down the Rabbit Hole by Holly Madison.  Dey Street Books: 2015. Library copy.