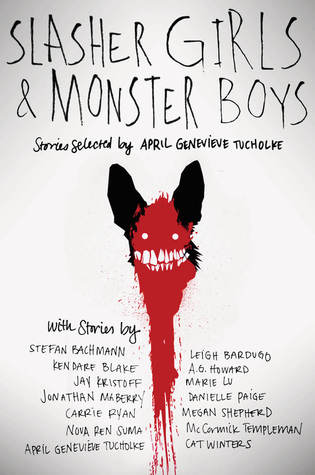 A collection of horror stories from some well-known YA authors working today, this anthology is full of chills, thrills, and bloody resolutions.  Each story draws inspiration from other parts of pop culture, including movies, books, TV, and even songs, and each one interprets these inspirations in various creepy ways.  The stories run the gamut from the fantastical to the all-too-real.
This anthology of horror is the perfect read for the Halloween season.  Full of stories that offer different things for different readers, there are standout tales as well as a couple of convoluted stories that never quite make it off the ground.  Like most anthologies, this is a mixed bag that has a great deal of successes and a few missteps.
The diversity of the anthology's offerings make this a must-purchase for fans of horror and supernatural tales.  There's something for every reader of the horror genre, including truly chilling takes on a zombie apocalypse, ghost stories, new takes on urban legends and classic fairy tales, and more.  One standout is Carrie Ryan's "In the Forest Dark and Deep," a truly terrifying take on the Alice in Wonderland story.
On the whole, this collection of stories is a lot of fun and offers such a wide variety of stories and writing styles that it's likely to attract a wide range of readers.  The stories are bloody and actually scary, making this a read best suited for readers who can handle a bit of gore.  Best read in small doses but easily consumed all at once, this is a solid entry into the YA horror genre.
Slasher Girls & Monster Boys by April Genevieve Tucholke, et al. Dial Books: 2015. Library copy.