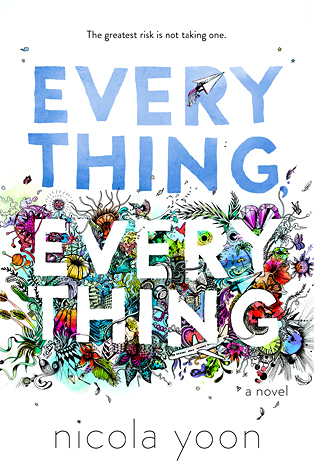 Madeline Whittier has been sick her entire life.  Born with a rare disease that makes her allergic to basically everything, she spends all her time in her sterile house, sealed off from the rest of the world.  She spends her time reading, attending school through online classes, and playing games with her doctor mother.  Her only other friend is her nurse, Carla.  When a new family moves in next door, Madeline watches with fascination as their family dramas play out rather publicly.  She catches the attention of their teenage son, Olly, and the two eventually begin an email friendship.  It isn't long before Maddie is in love and considering the risks of giving up the safety of her entire world for a chance at freedom with Olly, even if it means risking her life.
Nicola Yoon's debut novel is a beautiful exploration of love in all its forms.  This gorgeously written novel is enhanced by pieces of art drawn by Yoon's husband.  Bits of the novel are written in text conversations and lists, helping add dimension to Maddie as a character.  The novel is paced well and absolutely flies by.
The character of Maddie is particularly well drawn.  She's a good kid, and she's very bright, limited only by her disease, which keeps her from fully experiencing the world.  She's witty and well-read and full of thoughtful observations, and she really shines when she starts communicating with Olly, who offers her a chance to really display her humor.  The other characters in the novel are also well-drawn, and Yoon allows the relationships to be authentically complex.  There are no easy answers here, and the story is the richer for it.
The novel is wholly absorbing, and many readers will read it in a sitting or two.  This is a unique situation, and Yoon stays in firm control of the narrative throughout.  There's plenty of romance and heart to this one, and readers will devour it.  It's a wholly satisfying read.  Yoon is an author to watch.
Everything Everything by Nicola Yoon. Delacorte Books for Young Readers: 2015. Electronic galley accepted for review via NetGalley.