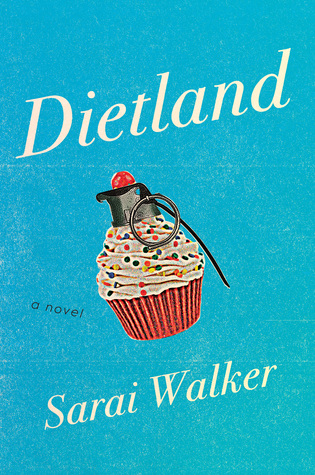 Plum Kettle tries hard to be the invisible woman.  She is fat, and she feels judged whenever she is noticed.  So she spends her days trying to blend into the walls, and answers the emails of desperate teen girls looking for advice from the editor of a popular teen magazine.  Plum knows that she's just waiting for her real life to begin after she has her weight-loss surgery.  When a mysterious woman starts following her, Plum realizes there might be more to her right-now life.  She gets involved with a group of women who live life according to their own rules, and Plum begins a self-radicalization that will have lasting effects.
Readers of Sarai Walker's ambitious debut novel should know a few things going into it: it pulls no punches and is subversive as hell.  Readers looking for a light romp through the world of diets and a culture obsessed with thinness should look elsewhere.  This book is not it.  But this book is brilliant and hilarious, angry and pointed in its razor-sharp criticism.  Readers who like their fiction prickly and complicated will be satisfied by this weird, smart novel.
Although the novel originally presents itself as the story of an unhappy woman trying to come to terms with her true self, it twists that story on its side by introducing the increasingly violent acts perpetrated by a terrorist group who calls itself "Jennifer."  They dump rapists off of freeway overpasses and out of planes.  They blow up misogynists.  As Plum becomes more enmeshed with a collective of women who may or may not have anything to do with Jennifer, she starts to realize that the life she's been waiting for–the life she'll have when she's thin–might not be a life she wants at all.  And that is where the novel's teeth really come into focus.
Walker could easily lose control of her narrative and send it spinning off into a world of hollow platitudes about loving yourself the way you are.  Instead, she keeps a firm grasp on the story and pushes the characters–and her readers–into darker and more complex territory.  The result is a mostly successful feminist novel that is well worth a read.
Recommended.  Not for the faint of heart.
Dietland by Sarai Walker. Houghton Mifflin Harcourt: 2015. Library copy.