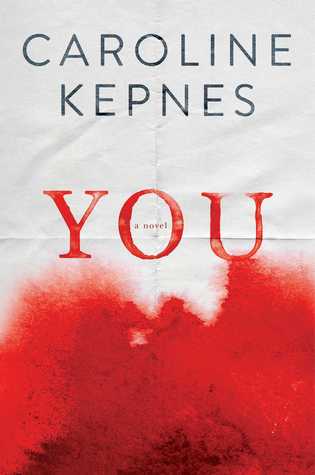 Joe Goldberg meets a beautiful wannabe writer when she comes into the bookstore where he works.  Her name is Guinevere Beck, and he becomes instantly obsessed.  He's able to find out all sorts of things by stalking her social media and then stalking her real life, and he knows that she will be his.  He just has to take care of some of the complications masquerading as people in her life.  As he controls more and more of Beck's life, he also works to be the perfect man for her so that their life together can finally begin.
One of my favorite library instruction sessions is all about social media and privacy, and I'm tempted to bring up a book like this when I discuss social media with students.  It's a perfectly ridiculous example of a worst-case scenario: a man uses social media to find out absolutely everything about his victim and uses the information to his advantage in every way possible.
That's what's so brilliant about Kepnes's fantastically creepy thriller: it has a hint of the wholly unlikely, but readers can't shake the feeling that it could be all too real.  It's deeply unsettling, extremely compelling, and oftentimes darkly funny.  Readers who like their narrators unreliable, their stories dark, and the morals murky at best will find a lot to love here.
In her narrator Joe, Kepnes has crafted a man completely unhinged but unaware of it.  He is able to exude charm to the outside world while keeping a running commentary of snarky comments and pop culture observations inside his head.  The result is a man who is both abhorrent and kind of awesome.
Beck is also complicated, but because readers are never treated to time inside her head and view her only through Joe's eyes and thoughts, she remains something of an enigma.  She's spoiled and kind of a brat, and has a tendency to treat people badly (though pretty much every character in this novel is the literal worst), but readers can tell that she has issues with intimate relationships just by how she engages with the world.  Because of this, they also know that her relationship with Joe is doomed.  I mean, he's also a sociopathic murderer, but Kepnes writes her characters so well that readers will have to actively remind themselves that they aren't rooting for Joe.
Perhaps the only true criticism is that the novel goes on for a bit too long, and some heavier editing could have cut a bit of the flab that keeps the story from being as tight as it wants to be.  It starts to drag about two-thirds of the way through, just ever so slightly.  Still, readers will race through this one to see what happens in the shocking conclusion.
Recommended.
You by Caroline Kepnes. Atria Books: 2014.  Library copy.