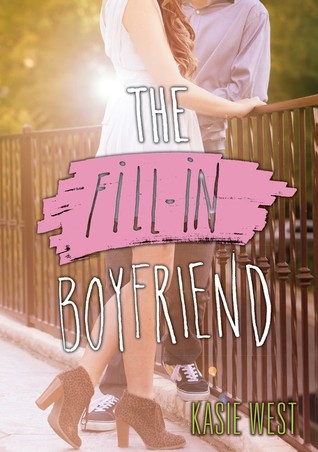 Gia Montgomery gets dumped by her perfect college boyfriend in the parking lot of her high school prom.  Desperate to show him off to her friends so they won't think she made him up, she ends up dragging an unsuspecting guy from a nearby truck into the dance and convincing him to pretend to be the now-gone Bradley.  She figures he's the perfect stop-gap until she can win back her boyfriend.  But then she ends up having a good time with this fill-in guy, and she starts to realize he's occupying all her brain space.  When the mystery guy's sister approaches her and asks her to do her brother a favor–pose as his girlfriend at his ex's graduation party, Gia wonders how far this whole fill-in relationship thing will go.
Kasie West has quickly made a name for herself as an excellent romance writer for teens, and this latest contemporary offering shouldn't disappoint.  Smart, funny, and full of heart, this is a fast-paced, sweet little read that will have readers ripping through it and sighing with contentment.  It's perfect for a light read on a summer's day, and the sweet, chaste romance means it will work for younger teens as well as older ones.
There are things that work very well here.  West's penchant for truly witty banter is on display here, and it's fun to read and never feels forced.  There's genuine chemistry between Gia and the fill-in guy, and her burgeoning friendship with his sister Bec feels authentic and is refreshing when contrasted with her stagnant, toxic friendships with her clique of mean-girls.  West allows Gia to grow in a very realistic way, and readers will be satisfied by her changes throughout the book.
But it's not a perfect book.  Although West makes an attempt to explore some heavier issues, specifically related to how Gia and her family communicate and share with each other, it comes off in a way that feels overly didactic at moments and forced at others.  There's some good stuff here, and many readers won't even see the strings being pulled, but something about it feels forced, probably because these characters are underdeveloped.  The same goes for frenemy Jules, who isn't given enough backstory to make her motives realistic or sympathetic in the least.
Even so, this is a fun, wholly immersive read that teens will gobble up.  West is an author that should be on shelves because there's enormous teen appeal here.  This was a lot of fun.
The Fill-In Boyfriend by Kasie West. HarperTeen: 2015.  Library copy.