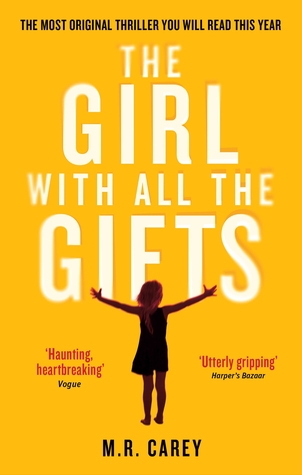 Every morning, Melanie waits in her cell to be collected for class. When they come for her, Sergeant Parks keeps his gun pointing at her while two of his people strap her into the wheelchair. She thinks they don't like her. She jokes that she won't bite, but they don't laugh. (goodreads)
M.R. Carey's post-apocalyptic novel has readers a lot to offer, and it doesn't just come from the big names who blurbed the book.  A fresh take on the zombie-trope, Carey's novel stands out with its unique premise and fascinating story.  A few missteps mar what is otherwise a very entertaining novel (and soon to be a super-whitewashed movie).
The characters of Melanie and Miss Justineau are the standouts here, and their bond helps drive much of the story's narrative.  Melanie is a character unlike any readers have ever encountered: a second-generation "hungry," a zombie who is capable of intelligent thought, empathy, and speech.  Miss Justineau is her teacher, a woman who believes that hungries like Melanie can serve a greater purpose than being specimens dissected in a lab.
But because these two characters work so well, it helps illustrate how thin the development of the other characters are.  The rest of the main cast fall into pretty common stereotypes and cliches, and their sections of narration suffer as a result.  However, readers who are invested in the rising action will be able to look the other way on this.
On the whole, the book is well-plotted.  The first third of the book is the richest in terms of story development, but the action kicks in shortly after and will keep readers turning the pages.  The novel combines several different tropes, and the road-trip feel of the middle section will work for some readers more than others.  A strong ending with an unusual twist makes for a satisfying conclusion.  This novel is remarkable for its re-imagining of the zombie tale.
The Girl with all the Gifts by M.R. Carey. Orbit: 2014. Library copy.