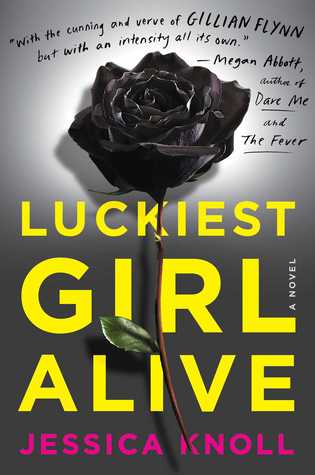 Ani FaNelli was just an out-of-place teenager at a prestigious school in Philadelphia's Main Line when she was publicly humiliated.  Desperate to reinvent herself and prove that she was a winner all that time, Ani is on the cusp of finally realizing her greatest dream.  She has a rich, handsome fiance and a glamorous job in New York.  But her secrets from her past are still haunting her, and she's struggling with whether or not to take them public.
Jessica Knoll's debut was an instantaneous success, flying up the New York Times bestseller list and getting a ton of buzz.  It's perhaps one of those strange things that just happens.  People like a good, juicy story about a woman with a dark past, and this one fits the bill.  Although comparisons to Gone Girl and The Girl on the Train abound, the only similarity this one has with those is its exploration of dark stuff.  And it is dark.
It's a bleak story that seems to get bleaker and bleaker as the pages turn.  Readers will race through this one because there's always more to discover, and because if there's one thing Knoll does well here, it's pack her story with plenty of juicy, dark stuff.  But there are a fair many missteps, too.  For one thing, there's Ani.
Part of the problem is that while Ani's voice is pitch-perfect, it's also very off-putting.  She's sarcastic, mean, and wholly guarded, which makes the first part of the book difficult to slog through.  Once the reader understands that she is the way she is for a reason, it becomes easier to swallow her bitterness, but only just.  There's a lack of charisma on the part of Ani that makes it hard to invest in her plight, and that also feels like an oversight, especially because the story is so depressing.
Knoll's choice to alternate chapters from when Ani was a teenager and when she is an adult doesn't work as well as it should.  There's something jarring about the back-and-forth, and it never quite gels the way it's supposed.  Despite this, the novel is still compulsively readable, and the heavy-handed prose shouldn't bother too many readers.  It's definitely a summer hit, and it's definitely one for fans of darker psychological thrillers.
Luckiest Girl Alive by Jessica Knoll. Simon & Shuster: 2015. Library copy.