Waiting on Wednesday is a weekly meme hosted by Jill at Breaking the Spine.  Its purpose is to spotlight eagerly-anticipated upcoming releases.
This week I'm eagerly awaiting: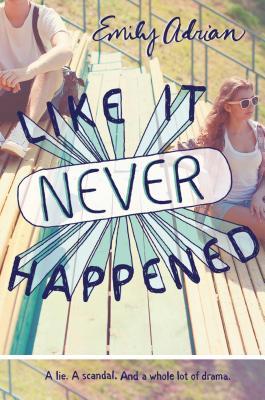 Like it Never Happened by Emily Adrian
Expected Release Date: June 2, 2015
When Rebecca Rivers lands the lead in her school's production of The Crucible, she gets to change roles in real life, too. She casts off her old reputation, grows close with her four rowdy cast-mates, and kisses the extremely handsome Charlie Lamb onstage. Even Mr. McFadden, the play's critical director, can find no fault with Rebecca.
Though "The Essential Five" vow never to date each other, Rebecca can't help her feelings for Charlie, leaving her both conflicted and lovestruck. But the on and off-stage drama of the cast is eclipsed by a life-altering accusation that threatens to destroy everything…even if some of it is just make believe.
(summary via Goodreads)
This looks like it's going to be a fun, light summer read.  It doesn't look like it's going to be ground-breaking, but it does look like it's going to be entertaining.  The perfect way to waste an afternoon on a hot summer day, in my opinion.  Plus, theater nerds always make for the best ramped up self important drama.
What are you waiting on this week?