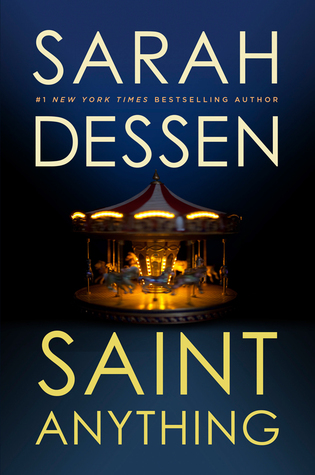 Now that Peyton, Sydney's older brother has gone to prison for a drunk driving accident, her parents finally have to deal with the fact that he's not the charismatic golden boy they've always thought he was.  Always playing second fiddle to Peyton, Sydney has to deal with the fact that the attention is on her for the first time, but she also struggles with her place within her own family.  When she meets the Chatham family and starts spending time at their family pizza parlor, she finds a family so unlike her own.
There's a reason why Sarah Dessen is one of the biggest names in YA, and it is on display here in her latest offering.  Saint Anything offers readers so much of what they love when it comes to the world of Dessen: sweet, thoughtful prose, authentic characters, and gentle exploration of growing up.  The result is a compelling novel about a girl trying to find her place in her family while also dealing with the harsh realities of life.  It's a satisfying, sweet read, guaranteed to satiate seasoned Dessen fans as well as win her new ones.
Sharp, unique details bring each of the book's characters into focus.  Sydney is well drawn, as is Mac, the brother of her new best friend Layla, and their tentative romance is plentiful when it comes to chemistry.  Her burgeoning friendship with Layla is as real as can be, and all of this helps make the book work on multiple levels.  Dessen's only missteps are with Sydney's mother, who feels a little one-note at times (though Sydney's frustration with her mother's inability to really hear her is achingly real), and with Ames, Peyton's friend from rehab.  There are moments where it's hard to figure out what Ames's end-game is, which is Dessen's point, but there are other moments where his behavior is so over-the-top he might as well be twirling his mustache mischievously.  Luckily, these minor missteps don't derail the book, and the overall result is satisfying and emotionally resonant.
A rich novel with memorable characters and emotional resonance.  This is guaranteed to be a hit with teens, and won't stay on shelves for long.  Highly recommended.  This is Dessen at her best.
Saint Anything by Sarah Dessen. Viking Juvenile: 2015. Purchased copy.