It's been a long time since I did a roundup of the pop culture stuff I'm into.  So without further ado, here are five things I'm digging right now:
1. Shameless: I'm not sure why it took me so long to start watching this show (LOL JK I do know and her name is Emmy Rossum), but I am sorry I waited, because I love it.  It's very smart and very funny and wholly interesting.  I'm taking my time with it because I like to watch it when I can fully devote my attention to it.  I'm totally enjoying it.
2. Saint Anything by Sarah Dessen: I finished this book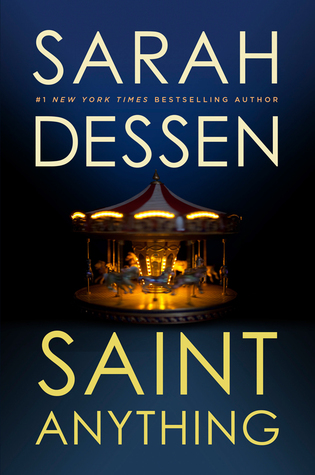 this past weekend and am still thinking about it.  It's definitely classic Dessen, and while there isn't anything really new here, I still loved it completely.  I think it's a gentle, sweet read about growing up and advocating for yourself, and it's going to find a lot of readers.  Dessen is a good writer, and this is on display here.  It's pure comfort reading.
3. Me & Earl & the Dying Girl Trailer: THIS LOOKS SO GOOD! I can't believe I missed the trailer when it was first released, but it's everything I hoped it would be.  I cannot wait to go see this when it hits theaters in a month.
4. The 2015 Network Upfronts: Just like in previous years, I have a weird affinity for following the network upfront announcements.  I like hearing about what shows are renewed or cancelled and what new shows might be coming down the line.  I'm not sure why, as I watch less live TV than ever, but it still tickles me to hear about it in real-time.
5. The Secret History of Wonder Woman by Jill Lepore
This was one of the books I got for my birthday this week (all of them books about or exploring the concept of feminism. Go figure), and I can't wait to really dive into it and learn all about Wonder Woman.  I've been hearing good buzz about this one for months and I'm so excited to read it.