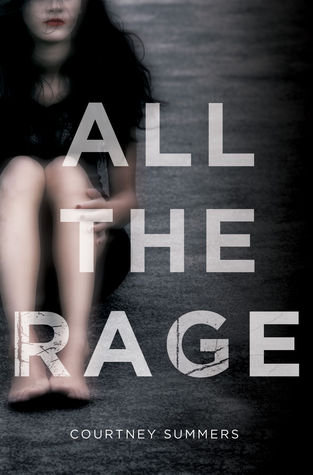 Romy Grey is a girl from the bad side of town, and because of that, she's automatically tainted.  It doesn't help that something bad happened with the sheriff's golden-boy son Kellan Turner and no one believes her.  Now she's lost everything: the trust of the town, her friends, everything resembling a normal teenage life.  Her only safe space is the diner she works at in a nearby town, where no one knows her past or her unfair reputation.  When a girl who is connected to both Kellan and Romy goes missing and rumors of another girl's assault surface, Romy faces hard choices between staying silent or finally speaking up.
Courtney Summers is a damn treasure.  Her latest offering is further proof of that.  All the Rage is a knockout of a novel, one guaranteed to find traction with readers, grip them wholly, and not let go until they finish the last breathless pages.  It is one of the best books of the year.
Summers doesn't shy away from the ugliest aspects of humanity.  She drops her readers into the middle of a town steeped in rape culture, but it's also full of simmering resentments.  There's a ton of generational history at play here, and all the characters are fully-developed and play into the larger plot.  The result is a powerful look at small-town life and the repercussions of being a girl in the world.
Romy is a fully-realized character full of realistic flaws.  She makes a ton of mistakes, and all of them feel authentic and completely believable.  She hurts people without meaning to, which also makes for a real, relatable heroine.  Her narration is both beautiful and unsettling, and her rituals around lipstick and nail polish (coping mechanisms in the aftermath of her sexual assault) make for a great metaphor.
This is a must-read book and one that won't stay on library shelves for more than a minute.  It's a thoughtful, powerful examination of girlhood, rape culture, and redemption.  It doesn't have a cookie-cutter ending, and the powerful emotional conclusion will guarantee that readers will be thinking–and talking–about it long after they finish.  Highly recommended.
All the Rage by Courtney Summers. St. Martin's Griffin: 2015. Purchased copy.