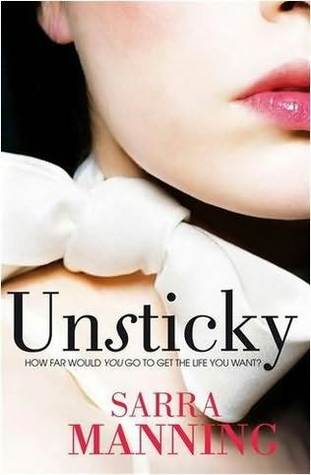 Grace Reeves is a financially struggling twenty-something working her way up the corporate ladder at a fashion magazine when she meets the mysterious, brusque Vaughn.  He's an art dealer, and he takes an immediate interest in Grace.  She's flummoxed when he offers her an arrangement that would help her get out of debt but would entail her to act as a professional girlfriend of sorts.  But as she enters Vaughn's world of money, she realizes that there's more at stake than she originally bargained for–including real emotions.
Sarra Manning has definitely established herself as a writer of compulsively readable pieces of fiction, and Unsticky is no different.  Full of flawed characters, witty dialogue, and a compelling premise, Unsticky will hook readers from the start and spit them out at the end, fully satisfied by total escapism.
It helps that Manning has crafted two characters who are equally broken, albeit in very different ways.  Grace tries to fix herself by spending way, way outside her means.  She shops as a way to fill a void within herself.  Vaughn is much more broken in an outward way, choosing to engage in professional romantic relationships with clearly established boundaries than risk a real, messy emotional entanglement.  They are both deeply flawed individuals who end up meshing very well when together.
A bit overly long, as is the case with most of Manning's work (this could have easily been 100 pages or so shorter), it's still wholly readable.  Although it feels a bit long in the tooth, readers will tear through it at a very fast pace.  It's quick, it's fun, and the ending is wholly satisfying.  Perfect summer reading.
Unsticky by Sarra Manning. Headline: 2009.  Purchased copy.