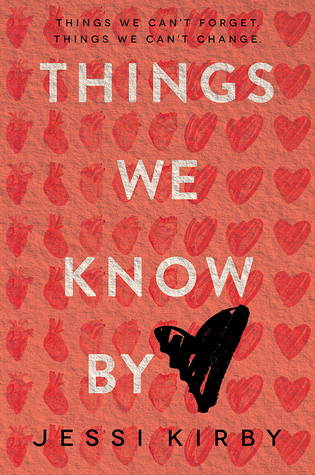 Quinn Sullivan lost her boyfriend Trent in a motorcycle accident.  His donated organs went to people all over the country, and when she meets Colton Thomas, the boy who got Trent's heart, the two feel an immediate connection.  But because she went outside the donor system to track down Colton, she can't tell him who she is.  As the two fall for each other, Quinn struggles with how to tell him the truth–and what that means risking.
Probably the epitome of the perfect beach read, this latest romance offering from Jessi Kirby is guaranteed to find teen fans and hook them from the start.  Kirby is a master of creating well-rounded characters, and that is on full display here.  Both Colton and Quinn are fully-realized, and Kirby pays attention to supporting characters as well, lending them credence as they help shape the world that Quinn and Colton inhabit.
A nice romantic tension helps propel the story forward.  The fact that both Colton and Quinn are keeping secrets from one another makes the story a bit more palatable for readers; there are moments in which some particularly sensitive readers might struggle with discomfort.  On the whole, the book is a smart look at loss and moving on, and it also sheds a great deal of light on the world of organ donation without ever crossing over into preachy territory.
At times it's a bit saccharine and errs on the predictable side, but readers looking for a summer romance read aren't going to be bothered by either of these things.  It's the perfect book to devour in a day or two, and it should attract new fans of Kirby as well as keep her established ones satisfied.  This one won't stay on the shelves.  Recommended.
Things We Know by Heart by Jessi Kirby. Harper Teen: 2015. Library copy.