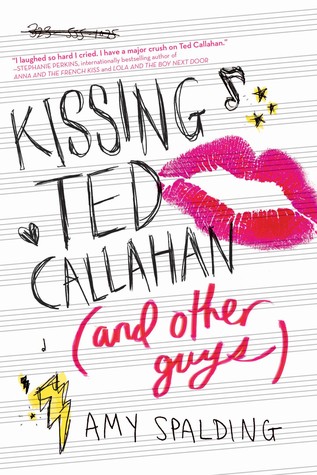 When Riley and her friend Reid catch their band mates hooking up, they realize they themselves could do with a little bit of romance.  So they make a pact to try to make things happen with their crushes (all while documenting it in a notebook they call The Passenger Manifest).  Though Reid seems to struggle with how to make things happen with the girls he's interested in, Riley finds it surprisingly–perhaps shockingly–easy to attract cute guys.  It isn't long before she finds herself with an embarrassment of riches, and that in the process, she might have gotten way more than she expected.
Amy Spalding's books are funny, smart, and full of heart.  There's massive appeal here for teens who like their narrators a little quirky but not over the top, and who like their characters fairly well-rounded.  A realistic look at what it's like to be a teenager navigating the complex world of crushes, romance, and hooking up, there's plenty to find enjoyable here.
Although the book is ostensibly narrated by both Riley and Reid in alternating chapters, the star of the show here is Riley, a  likable, good kid who is flummoxed by the amount of choices she has when it comes to dudes.  Her ability to find things in common with all the boys she dates and her genuinely authentic interactions with them make for a compelling read.
On the other hand, Reid falls a bit short when it comes to character development.  Much less page time is given to his exploits, and there's little to delve into when it comes to his character, as well.  These parts of the book don't detract from the narrative, but they don't add much to it, either.
Highly recommended.  Spalding is a must-read author for fans of contemporary YA, and her latest offering doesn't disappoint.
Kissing Ted Callahan (and Other Guys) by Amy Spalding. Poppy: 2015. Electronic galley accepted for review via Netgalley.