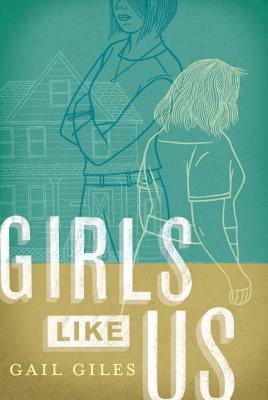 Quincy and Biddy have just graduated from their high school's special ed program and are forced out into the unforgiving adult world.  Completely different and at odds with each other, Quincy faces her challenges ready to fight while Biddy is much more timid about everything.  They're placed together as roommates and have to learn how to fend for themselves.  As the girls navigate their first year of independent living, they learn that they might not be as different as they originally thought.
Gail Giles's Girls Like Us is remarkable in many ways, not least of all because of the treatment of her two main characters.  The vividly imagined Biddy and Quincy are both authentic, flawed, realistic teens being ushered into adulthood whether they're ready or not, and they face a unique set of challenges.  Balancing some serious, truly terrible stuff with moments of humor and heart, Giles manages to craft a novel that is chock-full of genuine relationships, learning experiences, and truly memorable characters.
Told in very short chapters and alternating the narration between Biddy and Quincy, Giles takes a risk by allowing both characters to speak in specific, deliberate speech patterns that help readers not only understand the characters thought patterns but also how other people might view the girls.  Though it could veer off into sensationalized dialect, Giles keeps it true to the characters, and it never feels exploitative.  Both girls have genuinely funny observations about the world around them, and it helps readers build connections to both, even though they each have their own version of armor surrounding them.
The book deals with sexual and familial violence in very real, unflinching ways.  Giles isn't afraid to let her characters or her readers grapple with the ugliest aspects of humans, and these issues are dealt with successfully overall.  The book's only misstep is a brief foray into what happened to the daughter Biddy gave birth to, but this doesn't derail the rest of the novel.  Overall a very strong piece of fiction that should have enormous appeal to readers across the board.  Recommended.
Girls Like Us by Gail Giles. Candlewick Press: 2014. Library copy.