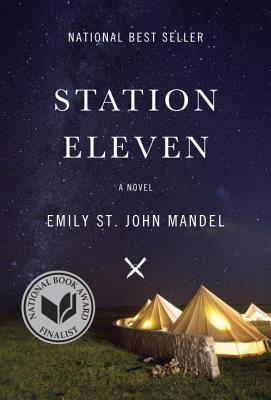 A famous actor collapses onstage, and an EMT in the audience leaps up to help him.  A child actress watches this with horror in her eyes.  That same night, a terrible illness sweeps across the country and the world, decimating the population.  Fifteen years later, that same child actress travels the country with a group referred to as the Traveling Symphony.  They move around to the settlements that have formed in a world forever altered, and then they encounter a violent prophet who might be the end for them.
St. John Mandel's sprawling novel that is part rumination on art and creative pursuits and part post-apocalyptic fiction has garnered a great deal of attention and praise since being released.  The praise and buzz aren't surprising once a reader enters the world she's created, as the prose is beautiful and her characters vivid.  What is surprising is how deftly St. John Mandel moves from past to present, jumping around in time and weaving multiple characters into her story completely seamlessly.  This is a remarkable novel, and readers young and old will find things to enjoy here.
Many things work in this novel, but much of why it works is because St. John Mandel has so fully imagined her characters and the world they inhabit.  Each reader might find a favorite character or location within the novel, but each of these distinct things helps make the whole that much stronger.  Sparse, beautiful language only make the story that much more compelling.  This is a hard one to put down.
At times truly harrowing and horrifying and at others simply beautiful, this is one that can't be missed.  There's appeal here for older teens as well as the adults it's marketed towards, and it will likely be a popular book club book, as there's plenty here to parse and discuss.  Haunting, excellent stuff.  Recommended, even for people who don't like post-apocalyptic fiction.  This is as much about the creation and sustainability of art as it is about the human condition.
Station Eleven by Emily St. John Mandel.  Knopf: 2014. Library copy.