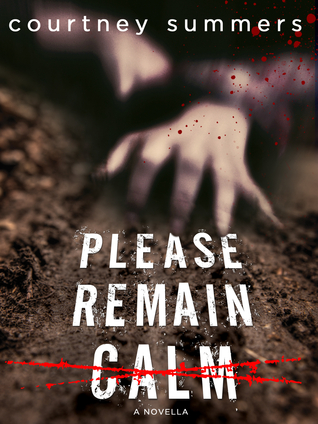 Rhys and Sloane are on their way to a safe haven when they end up separated after a particularly bad zombie attack.  Although he's determined to find Sloane–alive–Rhys finds another group of people, and he realizes that he might need them as much as they do him.  Determined to survive and with a newfound hope that he just might make it, Rhys continues to navigate a world where the dead are alive.
Summers's novella takes place immediately after This is Not a Test, so reading the first book is a necessity for readers picking this one up.  But fans of the first novel will also find that Summers applies the same mastery and enormous respect for the genre here, crafting a genuinely horrifying, moving novel about the zombie apocalypse.  This is a fast read that can (and will) be devoured in one sitting.
Much of what works in this story is the same stuff that worked in the previous book: the balance between truly heart-stopping action sequences and quieter, more emotional moments.  Summers is a well-documented zombie-fan, and it shows here.  She knows her stuff, respects the greats, and still manages to create a world that is uniquely her own.  But she also loves her characters, and the detailed, fully-realized characters who inhabit this world are compelling.
This time, the story is narrated by Rhys, and though readers still get plenty of page time with Sloane, having a new narration offers a fresh perspective.  Rhys's experiences offer a different take on what has happened and what's to come, and his fierce devotion to Sloane is palpable.  Summers takes care to build the interpersonal relationships between the characters, which makes it all the more horrifying when they're in dire situations.
Highly recommended.  This is an ebook only, but it's well worth the (cheap) price.  This is a great, quick read that should work for horror fans young and old.  It will also leave them clamoring for more.
Please Remain Calm by Courtney Summers. St. Martin's Griffin: 2015. Purchased copy.