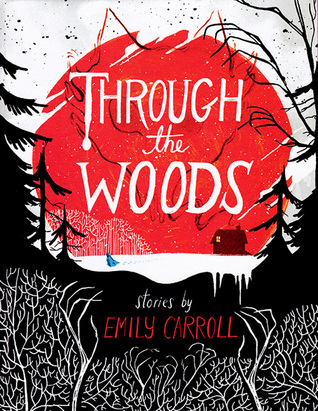 In Emily Carroll's graphic novel, five creepy stories come to life.  These creaking, macabre stories will chill readers to the bone.  "It came from the woods.  Most strange things do."
Carroll wrote and illustrated all of the stories in this excellent, creepy collection, and her talent for both sparse writing and brilliantly rendered stories shines through in each offering.  Using a combination of techniques to ramp up the tension and the horror, Carroll succeeds on every level, offering readers thrills, chills, and genuine scares.
All of the stories are a bit folk-tale-esque, but each offers a unique and original take on old tropes.  The blend of spare text (all hand-lettered) and brilliant illustrations (mostly done in black, white, and red) makes for a compelling reading experience.  Carroll makes use of visual techniques employed in the best horror movies, too: long passages of silence, sudden extreme closeups, lurking shadows that are almost completely out of sight.  All of this works gorgeously on the page, making it impossible to stop in the middle.
Genuinely scary stories that even the most jaded horror fan will find creepy.  There's a lot here to unpack, but the stories read quickly, making this a great choice for reluctant readers as well as more sophisticated ones.  Absolutely brilliant and highly recommended.
Through the Woods by Emily Carroll. Margaret K. McElderry Books: 2014. Library copy.