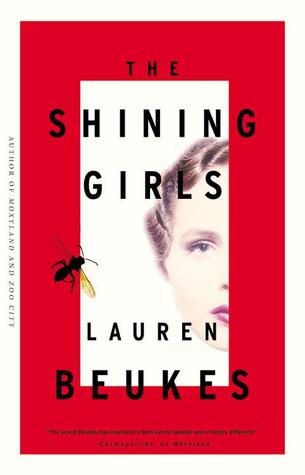 Harper Curtis is a serial killer who chooses his victims by selecting girls who have a shining light about them.  He's straight out of the 1930s, but when he discovers a magical house that can transport him through time so long as he satiates its desire for the deaths of his victims, he travels throughout the decades.  He hunts his victims for years, giving them trinkets and taking them back once he has committed the murder.  But one of his victims didn't die.  And now, in the 90s, Kirby is determined to find the man who tried to kill her years before.  With the help of a newspaper reporter, Kirby gets closer to discovering the truth about Harper than anyone else has.
Beukes is making a name for herself as an author who can craft a hard-boiled suspense novel, and that reputation is well earned.  In this novel, Beukes continues to work on her craft, writing characters that are both vivid and repulsive.  This is a dark novel, full of wit and emotion, and while it won't work for all readers (or even all readers of grisly murder mysteries), it will find fans who don't mind their novels super violent.
The novel is definitely suspenseful, and Beukes makes sure that each page leaves the reader wanting more.  But she gets bogged down a bit in the back-and-forth of Harper's time travel, which makes sections of the novel kind of a slog to get through.  What's more is that some of the great writing (there are some incredible sentences here) gets lost in the tedious games that Kirby and Harper are playing in trying to find one another.
These problems in pacing don't overshadow the novel's more successful parts, though.  Kirby is a fiery heroine, full of rage and a thirst for vengeance.  She is expertly drawn in contrast to Harper's deluded ideas of his purpose, and Beukes does well with both of these characters especially.  This is definitely an author to watch.
The Shining Girls by Lauren Beukes. Mulholland Books: 2012. Library copy.