Waiting on Wednesday is a weekly meme hosted by Jill at Breaking the Spine.  Its purpose is to spotlight eagerly-anticipated upcoming releases.
This week I'm eagerly awaiting: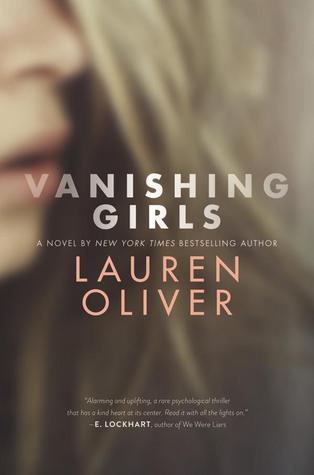 Vanishing Girls by Lauren Oliver
Expected Release Date: March 10, 2015
Dara and Nick used to be inseparable, but that was before the accident that left Dara's beautiful face scarred and the two sisters totally estranged. When Dara vanishes on her birthday, Nick thinks Dara is just playing around. But another girl, nine-year-old Madeline Snow, has vanished, too, and Nick becomes increasingly convinced that the two disappearances are linked. Now Nick has to find her sister, before it's too late.
In this edgy and compelling novel, Lauren Oliver creates a world of intrigue, loss, and suspicion as two sisters search to find themselves, and each other.
(summary via Goodreads)
I have generally liked Lauren Oliver's books, though nothing has yet come close to replicating the love I had for her debut.  Even so, this looks like a dark, twisty little novel, which I appreciate always.  I'm a sucker for sister stories, and this one looks like it's going to examine that very topic.  Here's hoping that the novel lives up to the "edgy" and "compelling" advanced praise.
What are you waiting on this week?