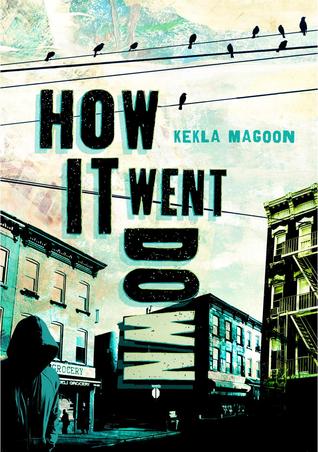 When sixteen-year-old Tariq Johnson is killed on the street by a white man who flees the scene, his entire community is torn apart in the aftermath.  Tariq was black, the shooter was white, and when the police let the shooter go after he claims self-defense, people are left wondering where the actual justice is.  Although many people witnessed the shooting, there are conflicting accounts, and it isn't long before the media circus is weighing in.  But what really went down that day?
This timely, important, and excellent piece of fiction by Kekla Magoon is a must-read.  Although it might be tempting to dismiss it as a "ripped-from-the-headlines" exploit, Magoon offers so much more for her readers here than one might guess at first glance.  The nuance, the realness, and the sheer authenticity makes this a book that readers aren't going to be able to put down.
Magoon offers her readers an excellent cross-section of community members' viewpoints throughout the novel.  There's Tariq's best friend from school, who feels like the only boy in the neighborhood left who hasn't succumbed to gang life.  There are the boys in the gang who were friendly with Tariq.  There's Jennica, a girl who wants a better life but isn't sure how to get there.  There's the Reverend, a media spokesperson who sees this tragedy as a stepping point on his journey to power.  All of them have a stake in the issue and a voice that demands to be heard.
Credit must also be given to Magoon for offering her readers a slew of tough, complex questions but offering no easy answers.  Who was Tariq?  Was he a good student and an upstanding young man, or was he a gang initiate?  Did he have a gun, or was it really a candy bar wrapper?  Does it matter that he was black and his killer was white?  Did the police release the killer too soon, or was he really acting in self-defense?  There's a lot to chew on here, and Magoon doesn't softball her readers answers.
This should drum up good discussions and would make an excellent addition to any library.  It's a hard read, but it's a gripping one, and it's incredibly important in a time where violence in our communities is all around us.  Highly, highly recommended for both adults and teens.  There's crossover appeal here, for sure.
How it Went Down by Kekla Magoon. Henry Holt & Co: 2014. Library copy.