Well, here it is.  My list of the best books of 2014.  In no particular order, here's what I read this year that stood out as the most outstanding of 2014.  All the links go to my review of the book unless otherwise noted.
Perfectly Good White Boy by Carrie Mesrobian:
Sean Norwhalt thinks his crappy life is turning around when he meets Hallie and they start dating.  But then she leaves for college, and Sean is still stuck in his small town, and he doesn't know what kind of a future he has, let alone the bright one full of "possibilities" that Hallie keeps talking about.  The only things that are looking okay for Sean are the Marine Corps, which he hasn't told anyone about, and Neecie Albertson, a girl who wasn't even on his radar before.
Mesrobian's sophomore effort was as excellent as her debut last year.  She consistently shows that she not only understands teens but isn't afraid to shy away from their uglier, incredibly human thoughts and impulses.  This one is heavier on the character development than the plot, but it's still a riveting, heart-wrenching read.  I can't recommend it enough.
Complicit by Stephanie Kuehn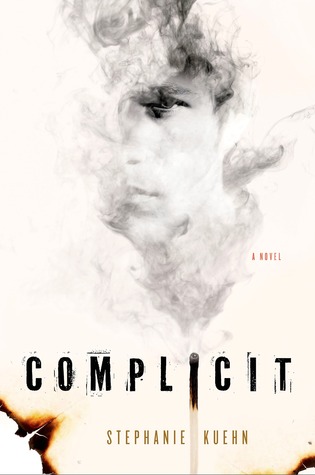 Jamie Henry's sister Cate has been in a juvenile detention center for two years, since the night she burned down a barn with horses and a classmate inside.  The classmate survived (albeit very hurt), the horses did not.  Since then, Jamie has tried to live life as normally as possible, dealing with his own anxiety issues.  But now Cate's out, and she's coming for him, telling him it's time to face the truth.  But Jamie isn't sure what truth she means.
Stephanie Kuehn is fast establishing herself as a writer unafraid to examine the psychological disorders that can haunt us at any age.  With this taut, tense novel, she takes readers on a journey that doesn't let up until its shocking, horrifying conclusion.  You won't be able to put it down once you start, so make sure to carve out some time to read this twisty, excellent novel with the best kind of narrator: the unreliable kind.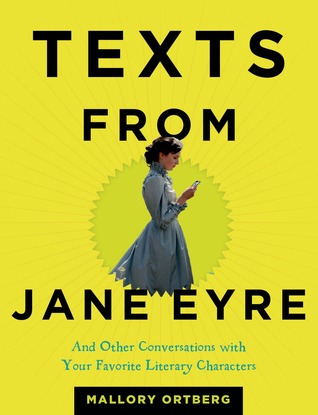 Texts from Jane Eyre by Mallory Ortberg
In this collection of humorous imagined text conversations between literary figures both exalted and reviled, Ortberg crafts a book that is both smart and hilarious.  What would Mr. Rochester say to Jane Eyre if they had had texting capabilities?  Exactly how insufferable would Scarlett O'Hara be if she'd had access to a phone?  And on and on.
There's so much to love and admire in Ortberg's first book, a collection of short texts based on a series she originally started on the web.  First of all, Ortberg is more well-read than you are, and you might as well accept it.  But her true brilliance lies in her ability to let the reader in on the jokes even if they aren't familiar with the source material.  This is a quick, fun read, perfect for dipping in and out as time allows.  It's also hilarious.
Say What You Will by Cammie McGovern:
Amy was born with cerebral palsy and can't walk without a walker or talk without a computer voice box.  She can't even completely control her facial expressions.  All of these things have largely alienated her from her peers.  When she decides to hire student helpers for her last year of high school, her mother is reluctant, but Amy is persistent.  She wants Matthew, a student at the school who is struggling with obsessive-compulsive disorder, to be one of her helpers.  As the two become enmeshed in each other's lives, a deep friendship forms, and the two of them wonder if they could ever be more.
I'm not sure what it was that spoke to me about this one, but I devoured it in a day and couldn't stop thinking about the characters long after the last page was turned.  It's a debut and it isn't perfect (there's perhaps a bit too much plot packed in at times), but it is achingly real, refreshingly different, and something that is likely to appeal to teens and adults.  Ignore the comparisons to other famous authors and read this one based on its own merits.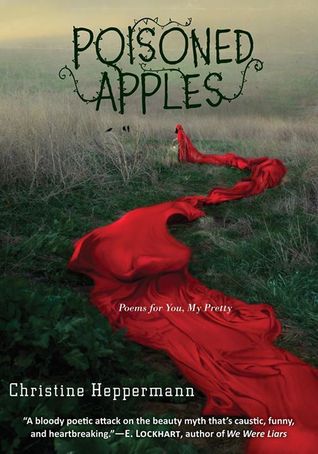 Poisoned Apples: Poems for You, My Pretty by Christine Hepperman:
Fairy tales can be applicable to modern life.  Teenage girls might relate more to the fairy tales of their youth than they first thought, and these poems help illustrate that fact.  Fairy tales teach girls how to think about themselves and the world around them, for better or worse.  In this book, the poems take on the classics–and provide a sharper edge, too.
Smartly feminist, completely subversive, and packed to the brim with insights about what it is to be a teenage girl in today's world, this is a stand-out collection of fairy tales turned poems.  It's riveting reading and absolutely unforgettable.  The kind of book you'll tear through and want to revisit in pieces, this is absolutely worth the investment.  Add it to your list of things to read ASAP.
Bad Feminist by Roxane Gay: (Goodreads link)
A collection of essays by internet sensation Roxane Gay, these pieces range in topics from scrabble tournaments to movies to books to television.  Gay tackles everything from race to rape to feminism in this excellent collection, and the result is incredibly satisfying and thought-provoking.  This is definitely been a year to watch Gay's star rise, and her notoriety and success are well-earned.  One of two books she published this year, this one hits my sweet spots perfectly while also providing a great deal of food for thought.
Check it out.