In the past few weeks, I've read a couple of books by celebrities but haven't reviewed them on the blog, despite liking them quite a bit.  I thought I'd do some quick-and-dirty reviews of two of them today.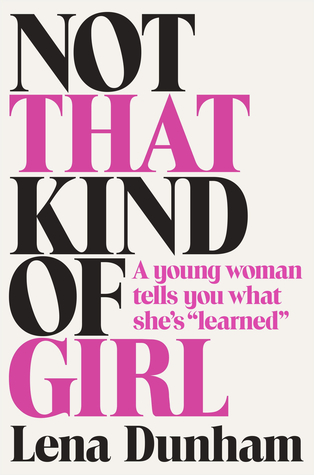 Not That Kind of Girl: A Young Woman Tells You What She's "Learned" by Lena Dunham: 
Dunham's book was probably a bit over-hyped, what with the exorbitant advance she got from the publisher and the media frenzy that resulted from the announcement of the deal.  The book was released, it was fairly well received, and then, predictably, there was some backlash.  I don't feel the need to comment on any of that, not only because it's been done to death, but also because I think a lot of it was misogynistic bullshit.  But what I will say is that overall, I enjoyed Dunham's book.
It's kind of memoir and kind of loosely-connected essays, but the result is largely successful.  Dunham has an interesting perspective on things, and because we're close in age, there was much I could identify with.  Some essays work better than others (please, no more food diaries–they are not interesting EVER), but the overarching result is one that marks Dunham as a competent writer, one who is working hard to understand her place in the world and make sense of the things that have happened (and are happening to her).  I particularly liked reading about Dunham's relationship with Jack Antonoff, as well as some of the anecdotes of growing up in a family of artists.  It's not as bitingly funny as a Girls episode, but if you have any interest in Dunham or how she views the world, it's well worth your time (it's also a quick read).
Yes, Please by Amy Poehler: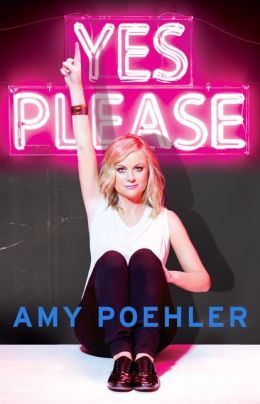 This one is similar to Dunham's work in that Poehler mixes memoir-like recollections of her experiences in comedy and Hollywood with general thoughts on being a woman in today's world.  It's funny, witty, and fresh.  Although I would have liked more details about Poehler's personal life (I am a nosy, nosy woman), I totally understand and respect why Poehler chose not to dish about her divorce, love life, or celebrity encounters she's had.
Much more of a laugh-out-loud funny than Dunham's book (this isn't really a fair comparison because they're so different, but whatever) Poehler's book reads quickly and works well for those looking to pick it up and put it down at random.  There's a lovely mix of sage advice and thoughts about feminism and women here.  I really enjoyed this one and recommend it to basically all ladies.