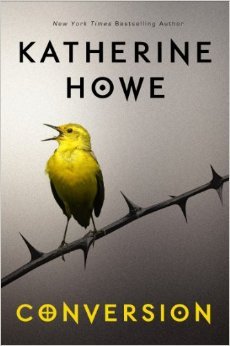 Senior year at the prestigious and competitive St. Joan's Academy isn't turning out the way it ought to have.  Colleen Rowley is gunning for valedictorian but there are weird things happening to the girls who attend the school.  First Clara Rutherford starts displaying strange tics in the middle of class.  Then other girls start having symptoms: seizures, coughing fits, hair loss, and more.  What is happening to the girls at St. Joan's?
This is the third book I've read about conversion disorders this year, and the second that focuses specifically on the contagious hysteria that impacts a group of teenage girls.  That fact aside, Howe's book is an interesting blend of historical fact and fiction, combining the St. Joan's story with interludes taking place during the real-life Salem Witch trials.  The result is a bit uneven.
Surprisingly, it is Howe's Salem-witch-trial era chapters that are far more compelling than what is happening with her present-day teenagers.  Howe's accounts of the Salem trials are researched, well-written, and feature historical people who actually lived through the period.  The writing takes on the cadence of the time and makes for some riveting pages.
In contrast, the present-day narrative falls flat.  Not only are the characters underdeveloped and often-times a bit stereotypical, they're also completely uninteresting, even when displaying the signs of the conversion disorder.  The result is a feeling of unintentional lopsidedness, which makes for a disappointing read at times.
Even so, it's an interesting, thoughtful look at how mass hysteria works and how people think about and treat teenage girls (yesterday, today, tomorrow, probably).  There's appeal here for adults especially, but it is marketed for teens (and there's a movie deal pending).  It might pair well with Megan Abbott's sharp The Fever, for those interested in exploring the themes more.
Conversion by Katherine Howe. Putnam Juvenile: 2014. Library copy.