Here's what I got up to in November: a major reading slump and more.
Reading: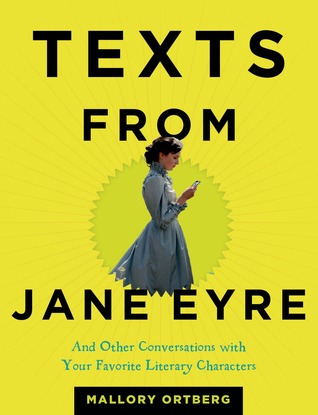 Best Book of the Month: Texts from Jane Eyre by Mallory Ortberg
Books Read: 8
Adult: 4
MG: 0
YA: 4
Children's: 0
Fiction: 6
Non-fiction/Memoir: 2
Graphic Novel: 0
# of Pages Read: 2705
Thoughts on November's Reading:
I'm in a terrible reading slump.  There's no way through it but through it, but man, am I feeling it right now.
Watching:
TV:
I've been watching a lot of Law & Order: SVU and I can't explain it.  Whatever, haters to the left.
J. and I are working our way through The Sopranos.
Movies:
Best Movie(s) of the Month: Mockingjay, Part I
Movies Watched: 9
New: 4
Re-Watch: 5
Theater Trips: 1
The only movie I saw in the theater this month was Mockingjay, and it was also really great.
Aside from that, no real standouts this month. I liked Far From Heaven (though the score was completely overpowering).  About Time was straight-up AWFUL and The Secret Life of Walter Mitty wasn't at all what I expected.  Both of those movies feature super creepy dudes who do weird things around women, now that I think of it.  Hm.
Goals for December:
Still trying to hit 200 books by the end of December.
I'd like to find another TV show I haven't seen before to watch (suggestions welcome), and of course I hope to fit in some more movies.