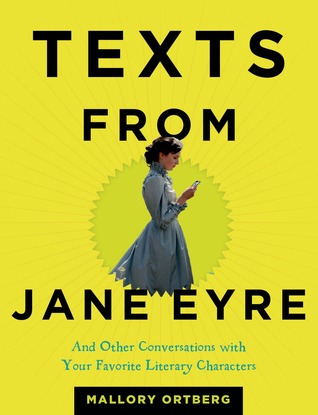 In this collection of humorous imagined text conversations between literary figures both exalted and reviled, Ortberg crafts a book that is both smart and hilarious.  What would Mr. Rochester say to Jane Eyre if they had had texting capabilities?  Exactly how insufferable would Scarlett O'Hara be if she'd had access to a phone?  And on and on.
This is one of those books you can read from cover to cover in a single sitting or flip through and read the vignettes at your leisure.  Each text conversation is self-contained, brief, and absolutely brilliant.  Part of Ortberg's skill lies in creating so much nuance in her conversations despite the incredibly sparse language.  The results are genuinely hysterical.
There's also the admirable skill that Ortberg demonstrates in getting inside the heads of so many literary figures and characters.  She's clearly read basically everything and has figured out a way to distill the essence of a character or story down to a few lines.  Readers unfamiliar with a particular tale shouldn't worry, though: Ortberg provides enough context so that readers can infer the rest and still be in on the joke.
This is overall great fun and well worth a reader's time.  There's something here for everyone, whether they're a fan of the classics (Austen is well-represented and Ortberg's renderings of her characters are pitch-perfect) or the new classics (the Baby-Sitter's Club, Sweet Valley High).  This is total fun.
Recommended.
Texts from Jane Eyre by Mallory Ortberg.