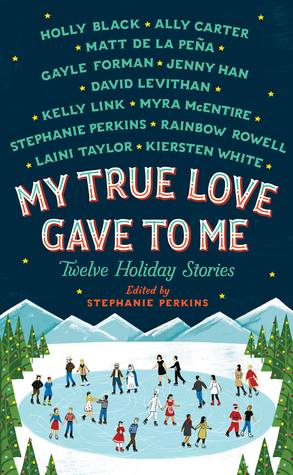 Twelve different stories by twelve of the biggest names in YA, all centered around that magical time of year where the cold makes people seem to fall in love harder and there's a spark in the air that can be felt if you just believe enough.  These twelve holiday stories feature all sorts of characters, but each one works as a sort of mini-romantic comedy.  Guaranteed to make readers feel good, this is a standout of a short story collection.
What makes this holiday-themed anthology stand out from other short story collections is the fact that there isn't a single dud amongst the bunch.  Each story offers readers excellent writing, sensitive and smart character development, and compelling narratives that are both cozy and sexy.  This is the perfect reading for the holiday season because each story is self-contained, allowing readers to dip in and out as they please (though most will plow right through the book–it is that good).
All of the stories in the book are truly excellent, but Matt de la Pena's tale of a house-sitter who finds unexpected companionship from the girl in the apartment above him is a knockout of a read.  Stephanie Perkins's own tale of a Christmas tree cutter who helps a girl organize her cluttered apartment is a smart, slightly sexy read full of Perkins's trademark witty banter.  Jenny Han's story about an adopted girl who lives at the North Pole offers a bit of bittersweet humor along with the kind of longing that encapsulates youth.
Through rich prose and great dialogue, all of these stories manage to offer a fresh perspective on what could easily become a tired concept.  These cozy stories are clever, tightly paced, and memorable.  Push this into the hands of readers and recognize that this isn't a book just meant for the winter holidays: this is likely to be read year-round.  A standout.
My True Love Gave to Me by Stephanie Perkins, et al. St. Martin's Press: 2014. Electronic galley accepted for review via Netgalley.