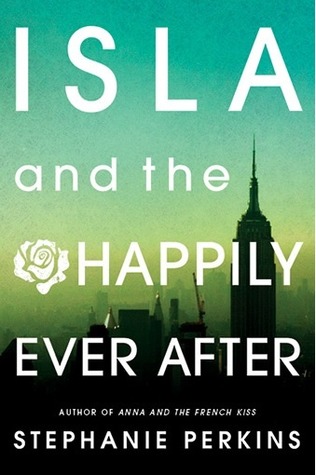 Isla has had a crush on Josh since their first year of high school at the School of America in Paris.  But she's pretty sure he doesn't even know she's alive until they run into each other at a coffee shop in Manhattan over the summer before their senior year.  That sets in motion things that Isla has only ever dreamed of, and it isn't long before the two are dating.  Their bliss is short-lived as they encounter resistance from their families, their school, and their own invented problems.
Stephanie Perkins's much-anticipated conclusion to her romance trilogy offers readers plenty of what the other two titles in the series did: witty dialogue, steamy romance, and insanely privileged teens.  It was also bound to be unable to live up to the hype and anticipation, especially after its delayed release.  While it's still a perfectly engaging read, it lacks the chemistry of the first novel in the series.
Part of the problem lies with the book's main characters.  Both Isla and Josh feel woefully short on character development, despite their obvious attraction for each other.  While Isla's uncertainty about her future feels realistic enough, there isn't enough development given to other aspects of her character to make her feel like a fully realized person.  The same goes for Josh: apart from his self-obsessed cartooning, there's not a lot to him.  But they do have undeniable chemistry, and that along with a healthy dose of sex positivity, makes this enjoyable even when the characters feel flat.
It's interesting to note that the novel's central conflicts come from within the characters themselves.  Perkins does a nice job of authentically portraying how a person's own thinking can be their own worst enemy.  These teens in immensely privileged but create their own obstacles that keep them from being together.  Isla's insecurities and Josh's self-destructive tendencies create issues that wouldn't otherwise exist for the duo.
On the whole, the story is predictable but very sweet.  Lackluster character development shouldn't matter to hardcore Perkins fans, and the character cameos from previous books adds a nice (if a little fan service-y) touch.  A perfectly satisfying light romance.
Isla and the Happily Ever After by Stephanie Perkins. Dutton: 2014. Library copy.