Waiting on Wednesday is a weekly meme hosted by Jill at Breaking the Spine.  Its purpose is to spotlight eagerly-anticipated upcoming releases.
This week I'm eagerly awaiting: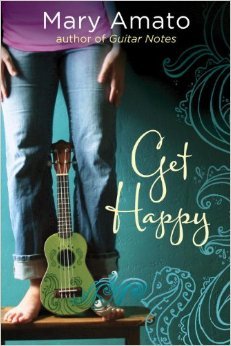 Get Happy by Mary Amato
Expected Release Date: October 28, 2014
In this poignant, realistic, contemporary YA by a state master list star, perfect for fans of Sarah Dessen and Gayle Forman, a young songwriter builds a substitute family with her friends in place of the broken family she grew up with.
A hip high school girl who loves music, writes songs, and is desperate for a ukelele, learns to her shock that her father did not abandon her years ago and has been trying to keep in touch. She begins to investigate him, only to discover that he has a new life with a new family, including the perfect stepdaughter, a girl who Minerva despises.
(summary via Goodreads)
This looks like the sort of diversionary contemporary YA I love to read.  It's got music and family secrets and all sorts of things I like.  I love explorations of choosing your second family, and if it's done well, I'm sure it will be a moving, memorable novel.  They're certainly pushing this title as one for fans of some big names, aren't they?
What are you waiting on this week?