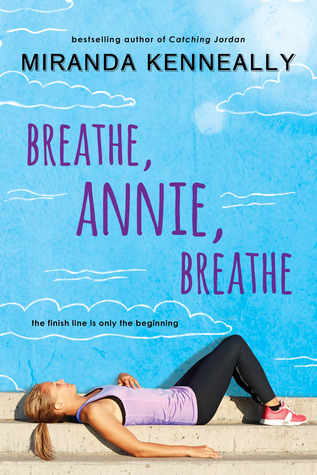 Annie has never been a runner.  Now she's running, trying to ease the pain and guilt she feels about the loss of her boyfriend, Kyle.  If she hadn't broken up with him, maybe he would still be alive.  To honor his memory, Annie sets out to do what Kyle never got to accomplish: run in the local marathon.  But because she's not a runner, Annie's in for some hard truths: there is vomiting, and there is chafing, and there is exhaustion.  As she logs mile after mile, she also deals with the regular parts of growing up and moving on: college, friends, and a new boy who makes her heart race.
Pardon the pun, but with this latest offering, Kenneally hits her stride.  By far the strongest of her offerings for teens, Breathe, Annie, Breathe is a realistic, pleasantly uplifting look at grief and loss and the things that sustain us when life is nearly too hard to bear.  With this novel, Kenneally mixes a coming-of-age story with sports, second chances at love, and much more.  The result is a memorable, incredibly inspiring take on one girl's quest to get control of her life.
There are several things done well here.  Kenneally allows the story to build up to the circumstances surrounding Kyle's death in a way that feels natural but allows for a fair amount of suspense.  She also allows the story–and its characters–to speak authentically about the experience of running.  All of the joys and pains of running are present in the story, and readers should identify with some aspect of it, whether they are runners or not.
Additionally, Kenneally writes her characters with realistic, palpable chemistry.  This is especially true of Annie's burgeoning relationship with daredevil Jeremiah.  Although the start-and-stop approach to their relationship might prove frustrating to some readers who just want to get on with it already, there's something incredibly realistic about Annie's reluctance to admit her feelings for someone new in light of her loss.
This is a great contemporary title to add to a collection, and should work for readers who are runners (or readers who aren't).  Definitely Kenneally's best so far, and it will work for fans of her previous books as well as attract new fans.  Recommended.
Breathe, Annie, Breathe by Miranda Kenneally. Sourcebooks Fire: 2014. Electronic galley accepted for review via NetGalley.