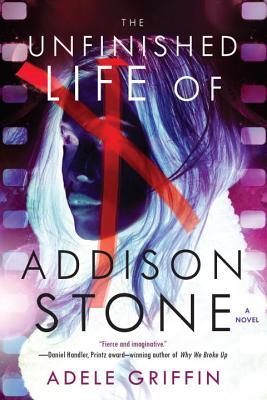 Addison Stone was an enigma in life and continues to be one in her death.  Following the mysterious circumstances surrounding her fall (or did she jump? or was she pushed?) from a bridge overpass during an art stunt, writer Adele Griffin tries to make sense of Stone's life through a collection of interviews with those who knew and loved her, images of Addison's work, and transcripts of interviews Stone gave when she was alive.
Stone's experimental novel presents a fictional biography of a rising star in the art world.  It is intricate, layered, and nuanced in a way many other books of its ilk are not.  This is a knockout of a novel and is guaranteed to attract legions of fans.  It's addictive in its prose and absolutely unputdownable.  The characters–Addison especially–will stay with readers long after they finish the book.
Griffin is an author to watch, always, but this latest offering offers a fresh take on the oral-history genre.  Combining text and images in a seamless, fascinating way, readers are given insight into Addison's art through the use of many of her paintings and drawings as well as descriptions of them.  It's a perfect use of mixed-media, and it helps add dimension to a character who might otherwise be accused of being a bit too elusive.
What is especially remarkable here–and there are many things that are indeed quite so–is that Griffin is such a gifted writer that through her other characters, she is able to craft a multi-layered narrative that begs to be examined more closely.  Through others' recollections of Addison Stone, she not only illustrates the fact that no one truly knew Addison, but also that they don't fully know themselves.  The ability of Griffin to allow these characters to speak in ways that are authentic but also allow them to project their own fears, hopes, and beliefs on the novel's narrative is truly masterful.
There are not enough positive things to say about this one.  This is a must-read, one of my favorite books of the year.  It's going to have enormous crossover appeal for both teens and adults.  It's one readers will sink their teeth into, and it's one that will naturally offer up plenty to unpack and talk about.  Read it now.
The Unfinished Life of Addison Stone by Adele Griffin. Soho Teen: 2014. Electronic galley accepted for review via Edelweiss.