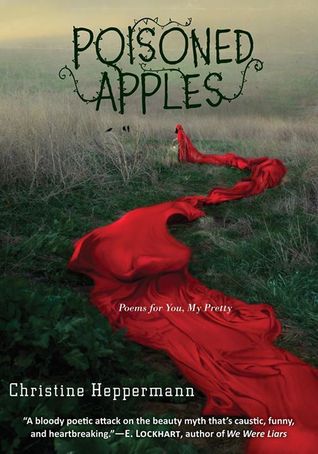 Fairy tales can be applicable to modern life.  Teenage girls might relate more to the fairy tales of their youth than they first thought, and these poems help illustrate that fact.  Fairy tales teach girls how to think about themselves and the world around them, for better or worse.  In this book, the poems take on the classics–and provide a sharper edge, too.
The fifty poems in this slim volume pack a serious punch.  Combining the tropes and themes of classic fairy tales with the modern teenage girl, Heppermann doesn't shy away from life's ugly truths.  Feminism, eating disorders, the perils of girlhood, and much more are tackled in these short, impactful poems.  This is a sharp, incisive read, and it's one that readers will tear through and then flip back to the beginning to start again.
Blending stunning photographs with sparse, haunting poems, Heppermann is unafraid to confront the struggles teenage girls face in today's world.  These poems are angry, raw, and cut deep.  There's much to unpack here in each poem: the searing social commentary, the urge for freedom, the frustration with the limitations place on girls.  Although the poems read quickly, it's worth it to revisit them, to read them aloud, to recognize the cadence in each and how they mimic the fairy tales of the past.
A fierce, cutting piece of feminism for the teenage set.  This is a must-read, and a must-have this summer.  Highly recommended.
Poisoned Apples: Poems for You, My Pretty by Christine Heppermann. Greenwillow Books: 2014. Electronic galley accepted for review via Edelweiss.