Waiting on Wednesday is a weekly meme hosted by Jill at Breaking the Spine.  Its purpose is to spotlight eagerly-anticipated upcoming releases.
This week I'm eagerly awaiting: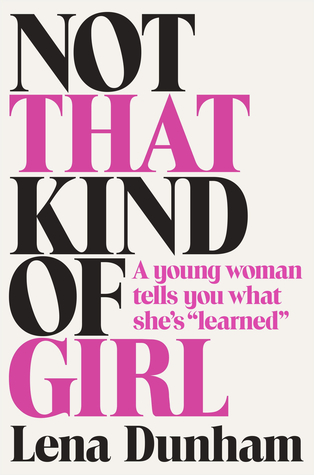 Not That Kind of Girl: A Young Woman Tells You What She's "Learned" by Lena Dunham
Expected Release Date: September 30, 2014
"There is nothing gutsier to me than a person announcing that their story is one that deserves to be told," writes Lena Dunham, and it certainly takes guts to share the stories that make up her first book, Not That Kind of Girl. These are stories about getting your butt touched by your boss, about friendship and dieting (kind of) and having two existential crises before the age of 20. Stories about travel, both successful and less so, and about having the kind of sex where you feel like keeping your sneakers on in case you have to run away during the act. Stories about proving yourself to a room of 50-year-old men in Hollywood and showing up to "an outlandishly high-fashion event with the crustiest red nose you ever saw." Fearless, smart, and as heartbreakingly honest as ever, Not That Kind of Girl establishes Lena Dunham as more than a hugely talented director, actress and producer-it announces her as a fresh and vibrant new literary voice.
(summary via Goodreads)
I'm a little nervous about this one, guys.  I don't think this is a book that needs any more hype, since Dunham was given a hefty advance back when the book deal was first announced.  But I like Dunham for the most part, and I want this book to be good.  I am worried it will not be.  I guess time will tell, since it's out in a matter of weeks.
What are you waiting on this week?