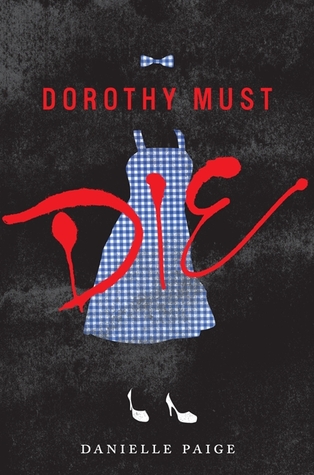 Amy Gumm has never fit in.  Raised in a trailer park by a mother whose struggles with addiction have made her parenting sporadic at best, Amy has had to fend for herself.  So when a tornado hits her trailer and whisks her away to the land of Oz–no, seriously, that Oz–she can't believe her eyes.  Only, this Oz isn't like the one in the books.  Here, Dorothy has changed the land and has mined the magic to fulfill her own desires.  Now, the land of Oz is in trouble, and citizens of Oz want Amy to be their chance for freedom.  In order for that to happen, Dorothy must die.
Danielle Paige's dystopian tale set in the familiar fantasy land of Oz is guaranteed to attract attention.  It's the time for fractured fairy tales and their ilk, so it's perfect timing for this novel to hit shelves.  This edgy take on The Wizard of Oz will probably work better for older teens, as it's quite gory at times.
The problem is that as fun as Paige's inventions are here in the world of Oz, they're flashy additions that can't wholly disguise the fact that there's nothing new happening.  This is a standard dystopian romance that's been set in place of a familiar fantasy landscape.  All the well-worn tropes are here, and while it might be fun to see Paige's re-imagining of the Tin Man or Dorothy herself, at its core, this is kind of a disappointment.
It's also overly long, despite the fact that once the novel gets going, it keeps going at a good pace.  There are more than a few gaps in the logic of the story and its characters, and this is likely to distract and frustrate readers who pay close enough attention.  The fact that the writing itself isn't stellar and is at times quite clunky and awkward only adds to the unevenness of the novel.
Overall a disappointment, but it will probably work for fans of fractured fairy tales or fans of shows like Grim or Once Upon a Time.  There will be a sequel, because of course there will.
Dorothy Must Die by Danielle Paige. Harper Collins: 2014. Library copy.