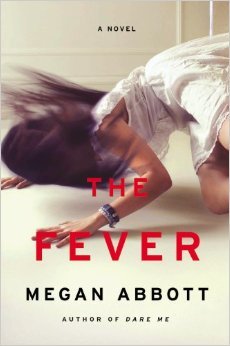 The town of Dryden is known for its terrible weather and its weird, murky lake.  The Nash family resides in the town: Tom is a teacher at the high school, and his two children, Eli (the hockey star) and Deenie attend the school.  Their somewhat stable lives are thrown into disarray when Deenie's friend has a terrifying seizure in class.  From there, rumors start to swirl about the affliction.  This escalates when another girl demonstrates some of the same symptoms.  Before long, girls throughout the school have fallen ill with mysterious afflictions.  Gossip and rumors spread like wildfire, and a lack of real answers only make the panic spread faster.
Megan Abbott is getting a lot of press these days.  The Fever, her latest slow-burn of a book, is part of the reason she's getting all sorts of attention.  It's attention that she's earned, because this chilling, smart look at a small town gone crazy is incredibly well done.  This memorable book will have crossover appeal for teens as well as adults.  It's remarkable.
Much of the credit for why the book works so well should be given to Abbott, who withholds information so expertly that the reader is always just within reach of having enough of the facts to piece the mystery together.  Because the reader doesn't know what's actually happening, they're put right into the thick of the drama with the characters who inhabit the small town.  The suspension ramps up as the questions about what is happening to the teen girls continue to increase.
Is it a bad batch of the HPV vaccine?  Is it an effect from pollutants in the lake?  Is it some sort of sexually transmitted disease?  Who is a carrier?  All of these questions and more propel the story forward.  There's so much happening here, and it's all so smart and real that it's a lot for a reader to unpack.  But that's what makes the book such a standout: Abbott is in firm control of the narrative and the greater meaning behind what's happening.  And it works.
There's a lot happening beneath the surface, and the exploration of the different issues and themes is important and resonant.  There's stuff here about teen girl friendships, about jealousy, about emerging sexuality.  There's stuff here about the frustrations of parenting and about the reticence of adults to give agency to teens, especially when those teenagers are female.  This is about the insanity of adolescence, and about the richness and emotional complexity of what it means to come of age in today's world.
Although it's not for every reader, it's certainly for many.  This is brilliant fiction guaranteed to spark discussion.  Read it, read it, read it.
The Fever by Megan Abbott.  Little, Brown: 2014. Library copy.