Waiting on Wednesday is a weekly meme hosted by Jill at Breaking the Spine.  Its purpose is to spotlight eagerly-anticipated upcoming releases.
This week I'm eagerly awaiting: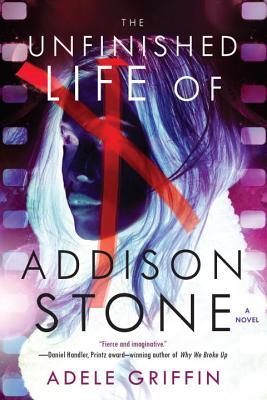 The Unfinished Life of Addison Stone by Adele Griffin
Expected Release Date: August 12, 2014
Two-time National Book Award finalist Adele Griffin offers an ingenious fictional take on the "oral history" celebrity bio that defined a bestselling genre: Edie, American Girl by Jean Stein and George Plimpton. In presenting herself as interviewer and curator of memories, Adele paints the portrait of a tragic young celebrity who allegedly committed suicide—presented in a series of brief first-person recollections—that ultimately results in the solving of a murder.
Adele's words: "From the moment she burst into the downtown art scene, seventeen-year-old Addison Stone was someone to watch. Her trademark subversive street art and her violent drowning left her fans and critics craving to know more about this brilliant wild-child who shone so bright and was gone too soon. By means of more than one hundred interviews with those who knew her best—including close friends, family, teachers, mentors, art dealers, boyfriends, and critics—I have retraced the tumultuous path of Addison's life, with research that sheds new evidence on what really happened the night of July 28, 2013. With photo inserts and previously unpublished supplemental material."
(summary via Goodreads)
I haven't read an Adele Griffin book that I haven't loved, so this one is high on my list of books to get as soon as they come out.  It took me several times to read the summary of the book and understand it.  I have to say, I think it's already sort of brilliant: a fake oral history of a young girl, told by the people around her?  Amazing.  Totally unique and I'm already hooked.  I can't wait!
What are you waiting on this week?