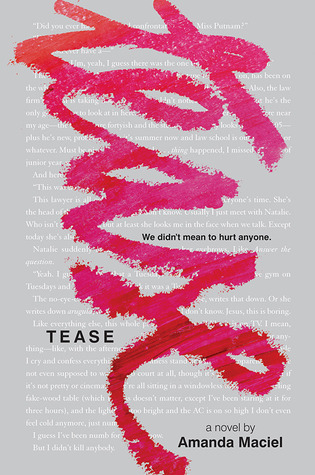 When Emma Putnam commits suicide, a community is up in arms.  Everyone seems to think that it's the fault of several teens who bullied Emma relentlessly.  Sara Wharton is one of those teens.  Along with her best friend Brielle and a few other classmates, the group is awaiting trial for their role in the death of the sixteen-year-old.  Completely ostracized from everyone in town and ordered to stay away from Brielle, Sara reflects on what has happened in the days leading up to the trial.
Amanda Maciel's ambitious debut succeeds on a lot of levels.  Creating a story and characters loosely based on real events, she crafts a novel that is achingly real, ultimately heartbreaking, and pretty unforgettable.  By choosing to have Sara, one of the bullies, narrate the story, Maciel's approach to the subject matter is different than many other authors.  It's a risk, because there are many readers out there who won't like Sara.
And while that shouldn't matter, because since WHEN do readers have to "like" the narrator, it will to some.  But what Maciel does is elevate Sara from a stock character and make her a deeply flawed protagonist who is also very real.  For the most part, at least.  Both Sara and the character of Carmichael are fairly well done, as are brief moments with Sara's family–in particular, her younger brothers.
Less successful characters include Brielle, who is clearly supposed to be the Queen Bee Mean Girl.  While there's a moment or two where Maciel hints at something underneath Brielle's surface, it feels like too little to get on board with her.
There's lots of stuff for readers to chew on and discuss here.  Not merely about issues like bullying and suicide, the book raises questions about who is complicit when a suicide like this occurs, what other factors play into something this horrific, and how one can move on after something like this happens.  Readers are going to want to talk about this one, and it will be great for discussion.
Which is why it's so disappointing when Maciel's ending makes everything a little too convenient, too easy, and more than a little inauthentic.  It undermines all of the groundwork that Maciel worked so hard to put in place.  It's too bad, because it takes what could have been a knockout of a book to one that is merely pretty good.
Tease by Amanda Maciel. Balzer & Bray: 2014. ILL'd through library.