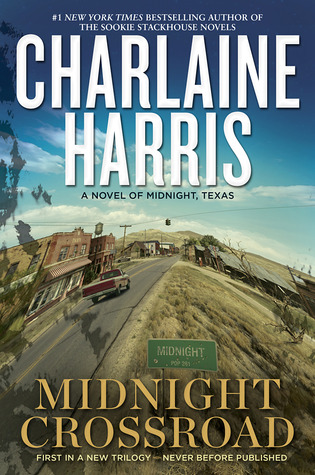 Midnight, Texas is a tiny little town with very few residents.  The town's only intersection hosts a diner, a pawn shop, a gas station, and a minuscule chapel.  People pass through, but they don't tend to stay overly long.  The town's residents make up an interesting lot, and they have their share of secrets.  But the unspoken rule in Midnight is that you don't ask questions.  So when a body is found, the tiny town's world is thrown into an investigation they never asked for.
Charlaine Harris operates firmly within her wheelhouse with this novel, the start of a new trilogy.  Full of vivid, memorable characters Harris is known for creating, this novel clips along at a good pace, full of the minutiae of small-town southern life fans of her work so crave.  Part supernatural tale (the supernatural aspects here are present but much more toned down than in her most popular Sookie Stackhouse series) and part whodunnit mystery, this is likely to gain traction with old fans as well as collect new ones.
The book starts off slightly rocky, with a present-tense narration that doesn't seem to quite work. However, after a chapter or two, the reader settles into the narrative of the novel.  The chapters are short and alternate from the perspectives of several of Midnight's residents.  There's Fiji, the witch who runs a little magic shop and pines for Bobo, the owner of Midnight's pawn shop.  Manfred is the town's newest resident, and he operates an online psychic business from his little apartment (hardcore fans of Harris's work will recognize him from her Harper Connelly mysteries).  All of the characters have their own pasts and their own motivations, and Harris hints at these events without judgment.
Also notable is how diversely Harris has cast her new series.  There are several people of color in Midnight, as well as a gay couple who is very well accepted into the town.  Harris weaves these details in seamlessly, and while characters have these traits, they do not define them.  It's refreshing to see this kind of diversity without it being the central point of the novel.
Mostly fun and definitely a strong addition to the genre, this is a book that is likely to circulate well at libraries.  Recommended for fans of Harris's work, and for fans of small-town mysteries in general.
Midnight Crossroad by Charlaine Harris.  Ace Books: 2014. Library copy.