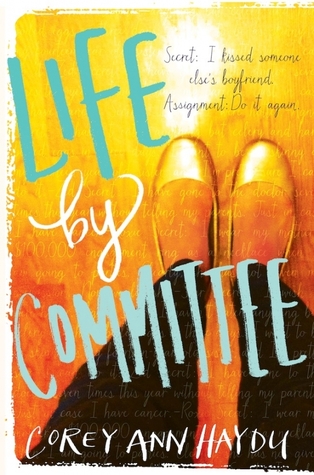 Tabitha's friends think she's changed, and they've dropped her like a bad habit.  Tab isn't exactly sure how she's changed, except that her boobs got bigger and she started to get attention from dudes.  Lonely, Tab seeks solace in carrying on a secret relationship with Joe, who already has a very public girlfriend.  Then she stumbles upon an online community called Life By Committee.  There, members spill secrets and complete Assignments.  As the Assignments raise the stakes, Tab wonders if she's going too far.
Haydu is an author to watch.  She proved that with her debut, OCD Love Story, and she does it here again, creating a fully-realized female protagonist who makes mistakes, feels authentic, and is absolutely memorable.  Although the ending might feel a little too convenient for some readers, this is still an ultimately satisfying–and completely riveting–story about growing up.
What works here is how deeply Tabitha becomes entrenched in her feelings about everything happening in her life.  She's lonely, and she's really attracted to Joe, the boy who already has a manic-pixie-dream-girl girlfriend, so when he spills his secrets to her during online chats, she wants their thing to be the Real Deal.  But he isn't totally present for her, and her parents are dealing with a new baby on the way and her dad's chronic pot-smoking tendencies, so even though they seem like good parents, they aren't totally there, either.  Because of this, her discovering an online community in which she can spill her secrets and feel connected to other people at the same time makes total sense.  It's easy to see how this becomes her distraction from her life's problems.
The novel really takes off once Tab becomes enmeshed in LBC.  There's a lot of great stuff to talk about with other readers here, including how social media plays a role in our lives, how things like spilling secrets to strangers rather than friends can be so alluring, and how far is too far when it comes to taking on a dare or a challenge to live life.  Haydu isn't afraid to make things uncomfortable for her characters or the readers, and the book is all the more authentic for it.  It can be hard, at times, to watch Tabitha make increasingly poor choices, but it never feels forced.
While some might think that the novel's climax is a bit too much (like, straight out of a movie, too much), others will devour it.  The one faltering step here isn't enough to keep this book from packing a serious punch.  Highly recommended–this one will stimulate discussion.
Life by Committee by Corey Ann Haydu. Katherine Tegen/Harper Collins: 2014. Library copy.