In my unscientific analysis, I've read more adult novels in the past 6 months or so than in many, many years.  I don't always feel like reviewing them fully (this might change, as I really am running out of YA novels to review here), but I do like talking about them sometimes.  Here are a couple good-to-great ones I've read lately.
Watch How We Walk by Jennifer Lovegrove
Narrated by a young girl and then also her older self, this novel follows the interpersonal dramas of a devout Jehovah's Witness family as they deal with an overbearing father, an increasingly checked-out-of-the-faith mother, and an older sister who has entered her rebellious teenage years.   It is sparsely written, very compelling, and has a haunting feel to it throughout.  It is an incredibly sad story with very little hope in it.  There's mental illness at play, as well as the questioning of faith, the questioning of self, and much more in between.
This is definitely an adult fiction title, but there might be some teen appeal here, especially for savvy, sophisticated readers who like their endings depressing and ambiguous.
(ECW Press, 2013, Library Copy)
Mother, Mother by Koren Zailckas 
This one was read for book club and was actually my pick for the month.  I'm not saying there's a trend here, but this one is also about a family where the mother (who is maybe an undiagnosed case of Narcissistic Personality Disorder) has wreaked havoc on her three children's lives.  Rose, the eldest, ran away, Violet comes down off a bad trip to find herself committed, and Will, the youngest, is home schooled and fully under his mother's spell.  It's a hell of a ride, and it's nearly impossible to put the book down once it gets going.  Although the ending might be a bit melodramatic for some readers, it's definitely an engaging and fascinating read.
It was the most well-received book our book club has read.  That's a point of pride for me (the librarian in the group).
(Crown, 2013, Library Copy)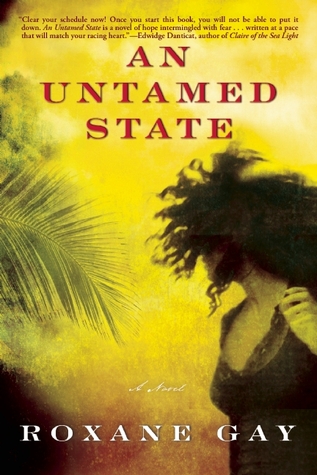 An Untamed State by Roxane Gay
Arguably the best of the bunch in this post, this searing novel by Roxane Gay (it's getting a lot of press/good buzz, and deservedly so) is narrated by a Haitian-American woman who gets kidnapped in Haiti by a group of men who extort her wealthy father for ransom.  Instead of paying the ransom immediately, she is held for nearly two weeks.  This is the story of her before and after, and it is not for the faint of heart.  But it is beautifully written, beautifully rendered, and absolutely unforgettable.  Excellent.
It is purely excellent.
(Grove Press, 2014, Library Copy)