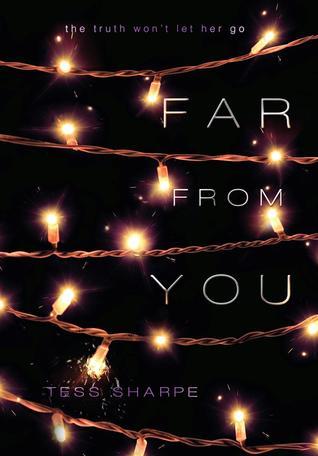 Because of a car accident when she was fourteen, Sophie Winters lives in constant, crippling pain.  Not long after the accident, she got hooked on Oxy, and it's years before she manages to kick the addiction.  Then her friend Mina is murdered right in front of her, and the killer plants pills on Sophie to make it look like a drug deal gone very wrong.  After a stint in rehab (not her choice, especially because this time she really was clean), she's home again, struggling to deal with the fact that her best friend–the person she loved more than anyone–is gone.  Determined to solve Mina's murder and force everyone to confront the truth, Sophie embarks on unraveling the mystery in front of her, while also dealing with the fact that it will force her to reveal Mina's biggest secret of all.
Tess Sharpe's debut is a knockout of a novel, and it's likely to make some best-of lists when the year winds to a close.  Fully realized characters, a compelling plot and narrator, and a strong grip on the prose makes this novel one readers will want to seek out.
Sharpe's novel features an authentic, deeply flawed protagonist.  Sophie is a complex character, and she's not overly concerned with whether or not people like her.  She is concerned with the truth, and her abrasiveness often reveals that.  Wracked with grief, regret, and loss, Sophie struggles with Mina's death not only because she witnessed her best friend murdered in cold blood, but because the two were in love–and this realization has deep ramifications for Sophie's world.
Also notable is the deft way that Sharpe renders the supporting characters in the story.  There are no simple characters here.  Each person in the story is full of flaws and motivations that make them feel like whole people.  Complex relationships and all-to-human reactions to the events of the book make it that much more compelling.
The book alternates between events past and present, and while this structure works very well here, the mystery often takes a backseat to Sophie's interpersonal struggles.  This works just fine, but readers looking solely for a hard-boiled mystery won't find that here.  Even so, the writing is strong enough to hook even the most jaded reader.
Highly recommended.
Far From You by Tess Sharpe. Indigo: 2014. Electronic galley accepted for review via Netgalley.