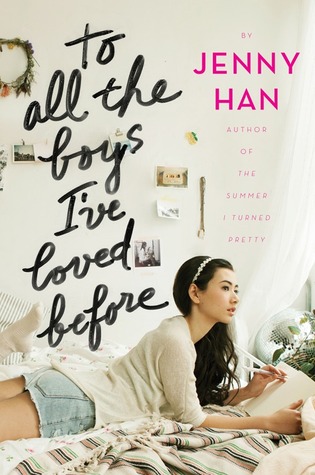 Lara Jean Song writes letters to the boys she falls in love with.  They're kind of love letters, but she usually waits until she's fallen out of love with the boy to write them a letter.  Instead of sending them, she keeps them in a hatbox her mother gave her before she died.  In the letters, Lara Jean tells the boys everything she wants to say but never would, and she takes comfort in the fact that they are private.  But then the letters get mailed, and Lara Jean's world spins out of control in the aftermath.
Jenny Han's latest offering is that kind of perfect read that can be devoured in a single sitting.  Part romance, part coming-of-age, and part love-story to the bond of sisters, this is a remarkable and remarkably welcome addition to the contemporary YA world.  The novel's planned sequel means readers won't get complete closure when the book ends, but for the most part makes for a satisfying conclusion.
Lara Jean's voice is incredibly young, and while that might be initially jarring for readers used to savvier, much more sophisticated teen voices, it actually ends up working quite well.  She's a girl who loves her family and prefers to spend her time at home, knitting and baking.  Her relationships with her two sisters are done extremely well, especially when it comes to her interactions with her younger sister, Kitty.
While some of the secondary characters could definitely be given more depth (Josh barely works as a love interest because he's about as exciting as plain oatmeal), the book's compelling story arc and authentic narrator in Lara Jean make it easy to ignore the character shortcomings.  Readers who love their romances light will enjoy this one.
Highly recommended.  Fans of Sarah Dessen and Stephanie Perkins will find something to love here, if they haven't already devoured Han's Summer series.
To All the Boys I've Loved Before by Jenny Han. Simon & Shuster: 2014. Purchased copy.